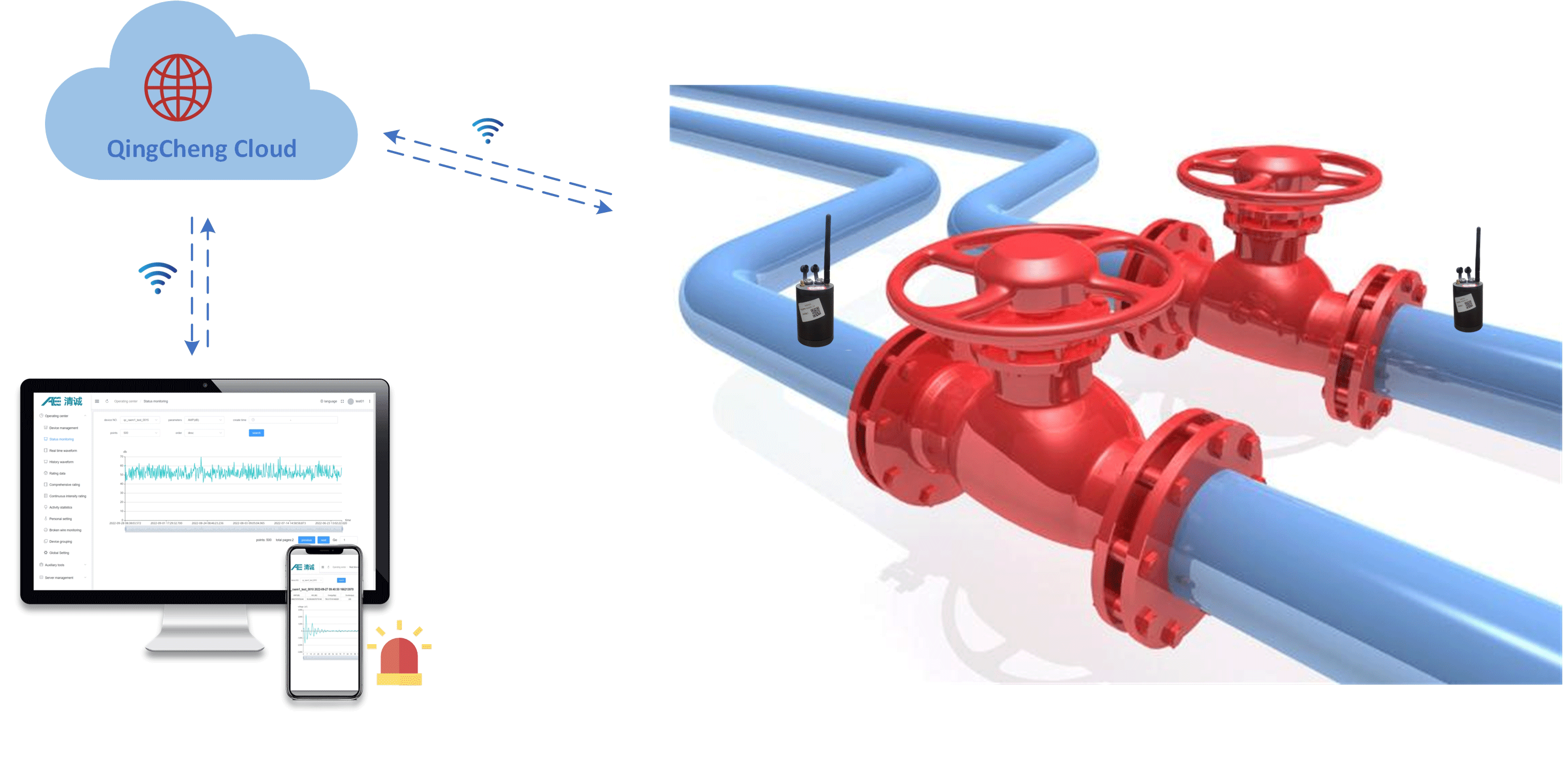 Application Scenes:
suitable for leakage monitoring for various valves and pipelines;
long term remote unattended condition monitoring;
difficult or impossible to access object surfaces, e.g. high/low temperature, nuclear radiation, flammable, explosive, or toxic conditions;
regardless of whether the internal medium is liquid or gas;
Background:
Valve leak is a big threat to industrial productions, always affecting production safety. Corrosion and leakage appear with the extension of the service time of valve. Small leak grows rapidly if there is no effective detection in early stage. It not only causes lots of property losses but also threatens the environment. Therefore, effective early leak monitoring becomes more important today.
Technology Principles:
The acoustic waves generated by the friction between the medium and the fracture of the material propagates along the surface of the material and is received by the acoustic wave (acoustic emission) sensor. The acoustic wave (acoustic emission) system processes and analyzes the received acoustic signals and evaluates the leakage status of the pipelines and valves.
RAEM Online Monitoring System Features:
Online --- acoustic wave (acoustic emission) monitor is installed on the monitoring objects surface to achieve any time any day of condition monitoring and diagnosis with online and historic data stored and displays.
Intelligent --- auto process the monitoring data without manual controls; auto alarming for abnormal conditions; auto analyse the leak rate of the pipeline valves; auto analyse the leak areas. The whole monitoring process and result evaluations are automatic.
Remote --- with the help of the Internet of Things technology, users can obtain the monitoring results of the monitoring points from any unlimited distance ranges at any locations.
System Installation:
A variety of data output communication modes (WiFi, 4G, Ethernet, RS485, etc.) can be configured according to user requirements to achieve the regular scheduled detection or long-term monitoring detection and other application modes.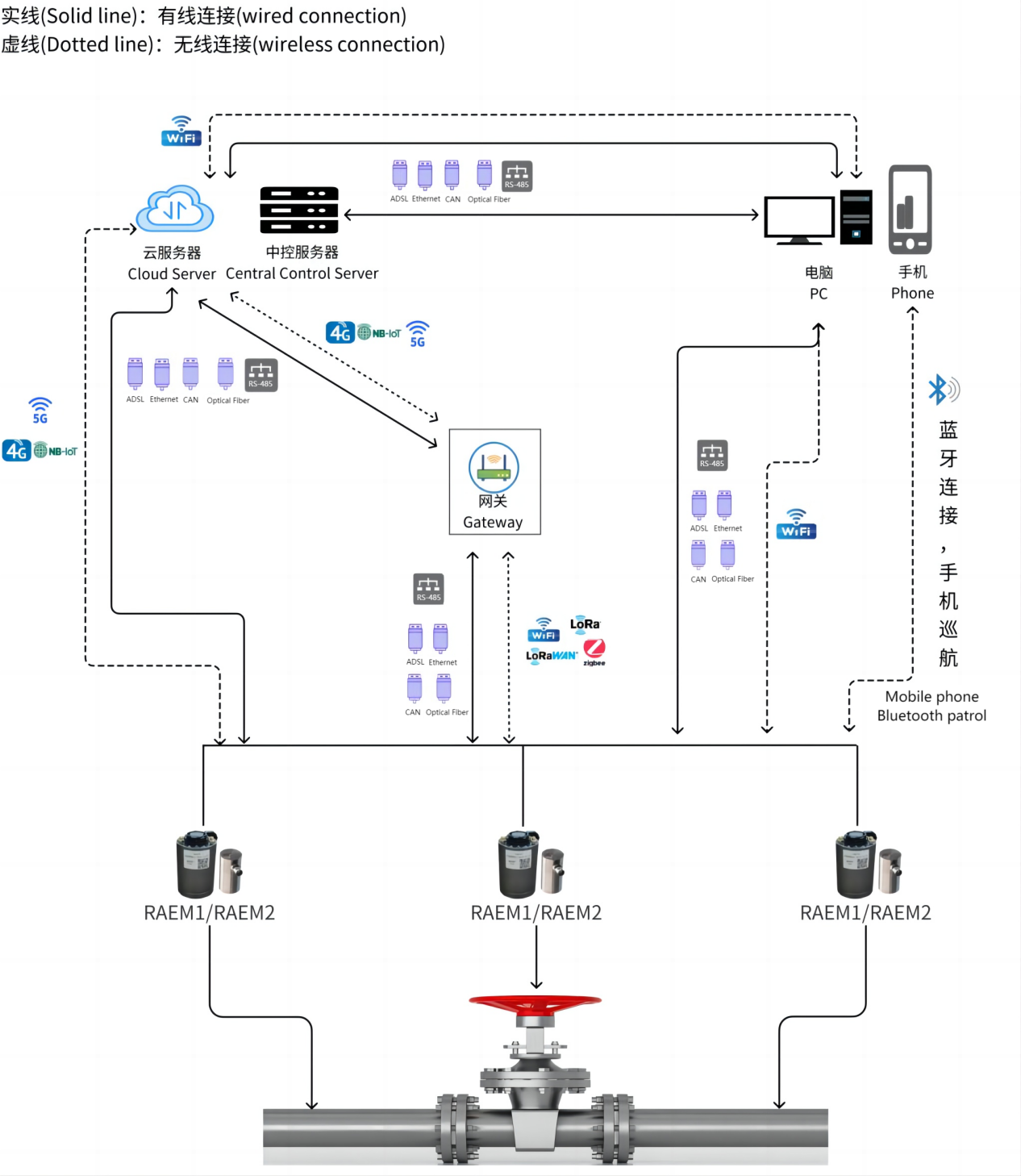 System Diagram
Note: The above systems have the mobile phone app with Bluetooth communication functions for patrol inspection and field debugging settings.
1) RAEM1 remote acoustic emission monitoring system -- pipelines and valves cracks monitoring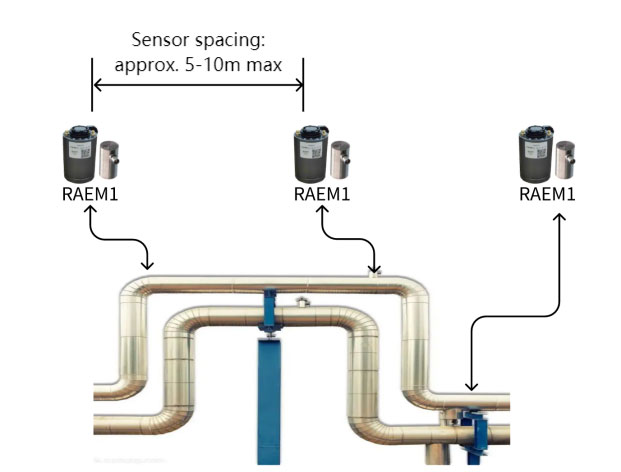 Installation
Features
Signal or time trigger
Burst signals and continuous signals acquisition
Long-term monitoring and diagnosis
Remote monitoring and wireless single channel detector
Processes
Install RAEM1 in key parts to monitor crack initiation and expansion, etc
Start acquisition
Analysis and verification, to get the criteria standards
Set criteria and send push notification to the mobile phone platform
2)RAEM2 remote acoustic emission monitoring system -- pipelines and valves leakage monitoring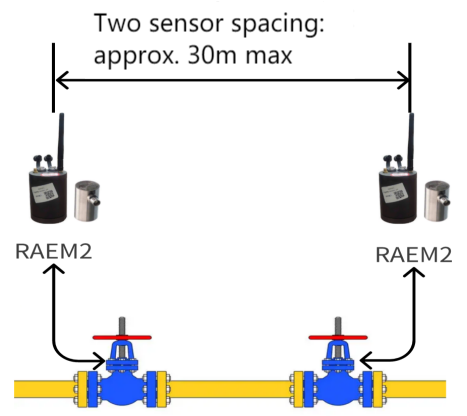 Installation
Features
Time trigger
Continuous signals acquisition
Long-term monitoring and diagnosis
Low power consumption and low cost
Compact and all-in-one design
Processes
Install RAEM2 on the key parts to monitor the leak state
Analysis and verification, to get the criterion standards
Set criteria and output the alarm push notification to the mobile phone platform
Main Hardware and Software Introduction
1) Monitor
2) Real-time Result Analysis and Alarm Notifications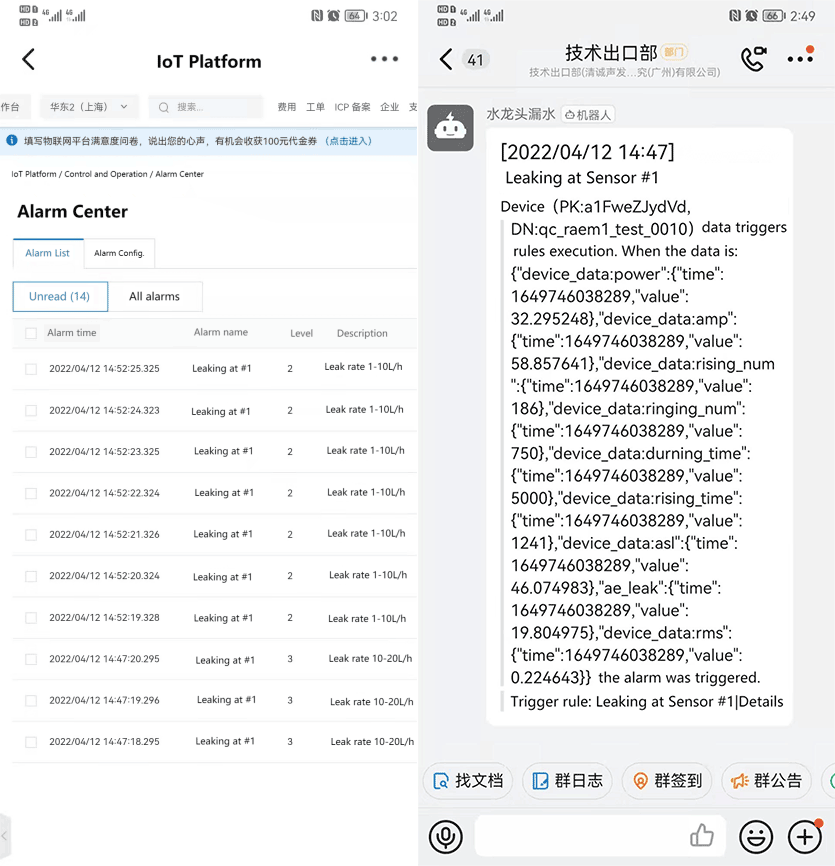 3) Cloud Platform:
There are Qingcheng IOT Cloud Platform, Alibaba Cloud, AWS etc. Below lists the QingCheng IoT Cloud Platform features as examples:

① Cloud platform data display
Users can carry out remote real-time monitoring data displays through the cloud platform, and push the leak alarm notifications to users.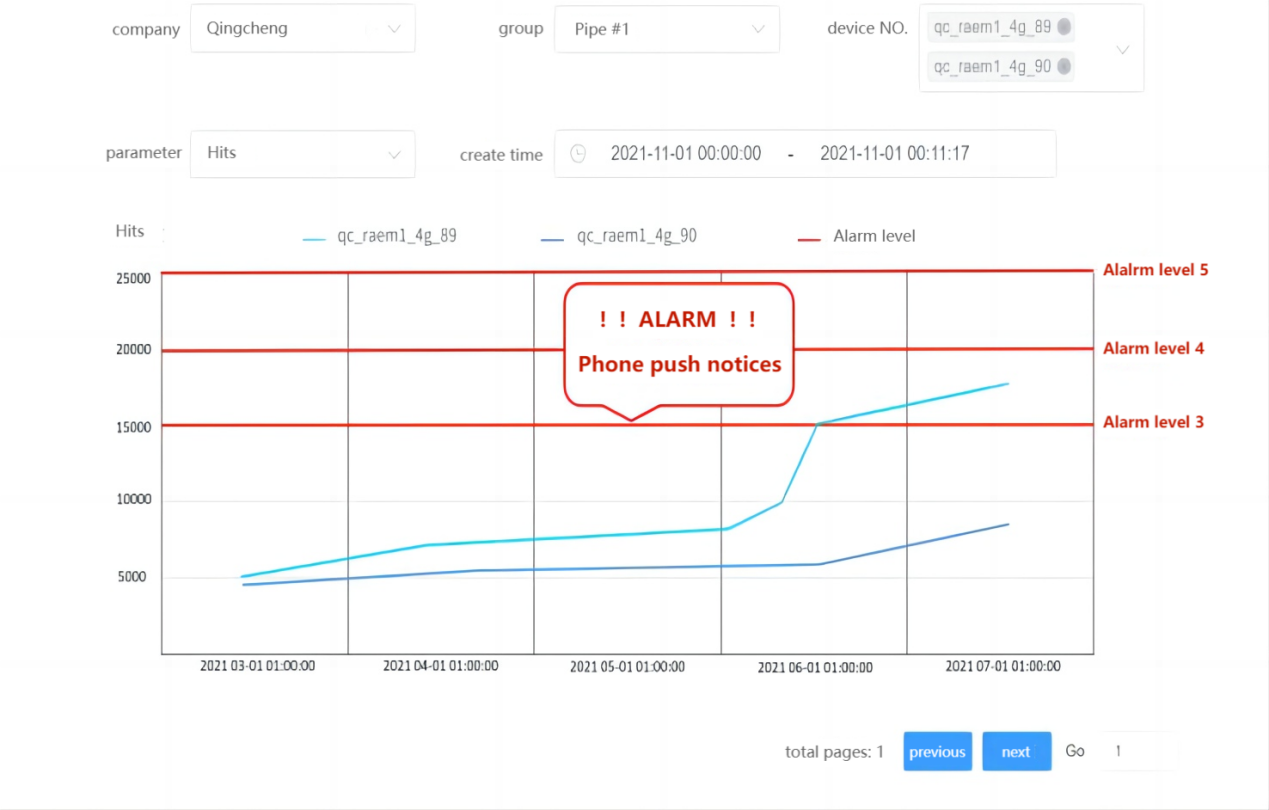 ② Remote system upgrade
Users can download and install the upgraded software and system from the cloud platform over the air.
③ Sampling settings remote configuration
Users can perform remote configurations, such as sampling configuration, timing configuration, and system rating configuration, on the cloud platform.
④ Data downloads
Users can download historical data through the cloud platform remotely.
4) Desktop analysis software - SWAE software:
The data can be downloaded from the cloud for further analysis using SWAE analysis software, or sent directly from RAEM to the SWAE software in real-time for processing and analysis in detail.
① Location Analysis

Linear location (Time difference algorithm)
② Other methods of analysis
Such as correlation graph analysis, waveform analysis, Fast Fourier Transform, wavelet transform and so on.

Leak waveform in time domain

Several Parameters verse time correlation graphs