Your position:HOME > PRODUCTS > Online Monitoring System >
RAEM 2 Acoustic Wave (Acoustic Emission) Monitoring System
Model:
RAEM2
Description:
Based on Acoustic Wave (Acoustic Emission) technology and Linux system, and could achieve long-term stable running. combined with Qingcheng IoT cloud platform , it could meet the different requirements of application.
Features:
Compatible with a variety of communication methods, long transmission distance, fast speed. Compact design and easy installation.
ENQUIRY NOWCONTACT:+86-20-32290092
RAEM 2
Acoustic Wave (Acoustic Emission) Monitoring System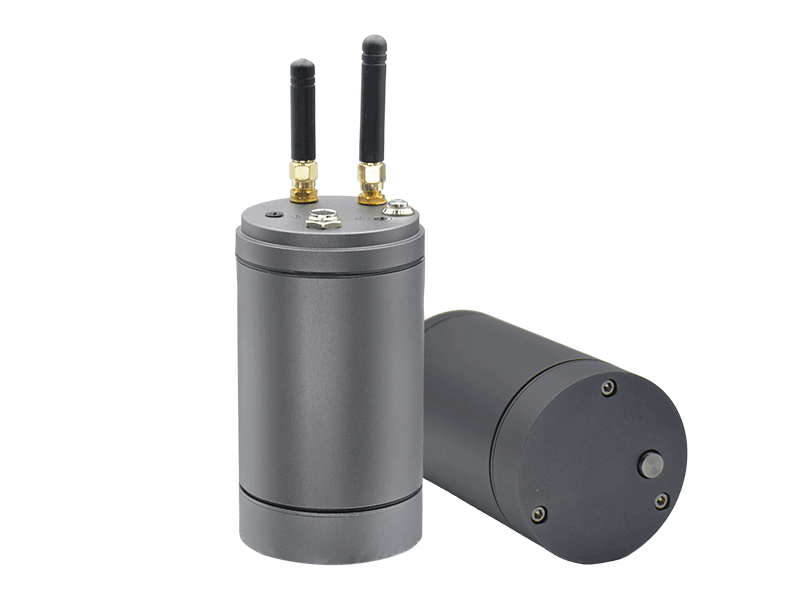 1.Introduction
RAEM2 is an all-in-one condition monitoring system, combining acoustic emission (AE) sensor, battery, data acquisition and process module and communication modules in a small aluminium alloy cylinder. With some magnets at the bottom base, RAEM2 can be attracted to and coupled on the metal object surface. It not only supports a variety of communication methods to the IoT Cloud, for instance 4G or LoRa, but also supports Bluetooth short range inspection. The cloud platform can be used for remote data monitoring and dual-direction transmission and configurations. There are a variety of output ports and network communication methods available to choose or be customized based on the application needs.
RAEM2 is time triggering. The maximum battery life for operations is three years using Lithium-ion batteries (in timing acquisition mode once every day for one second). The device automatically wakes up for data acquisition following the hibernation schedule. RAEM2 can be 24/7 continuous operations with high reliability, which is suitable for long-term continuous unattended automatic data collection, analysis and transmission. The output data are amplitude, ASL, energy, RMS. Waveform data can also be output.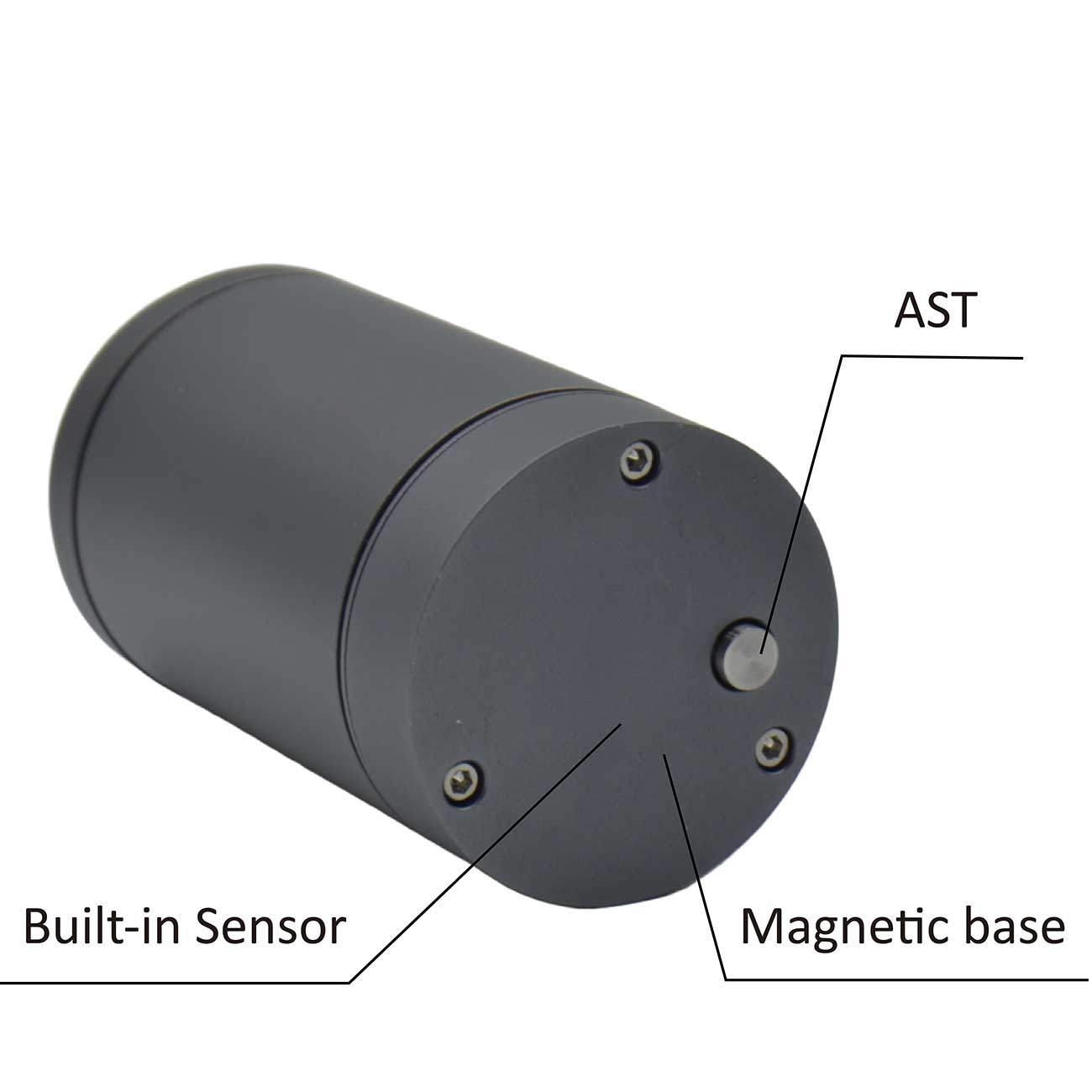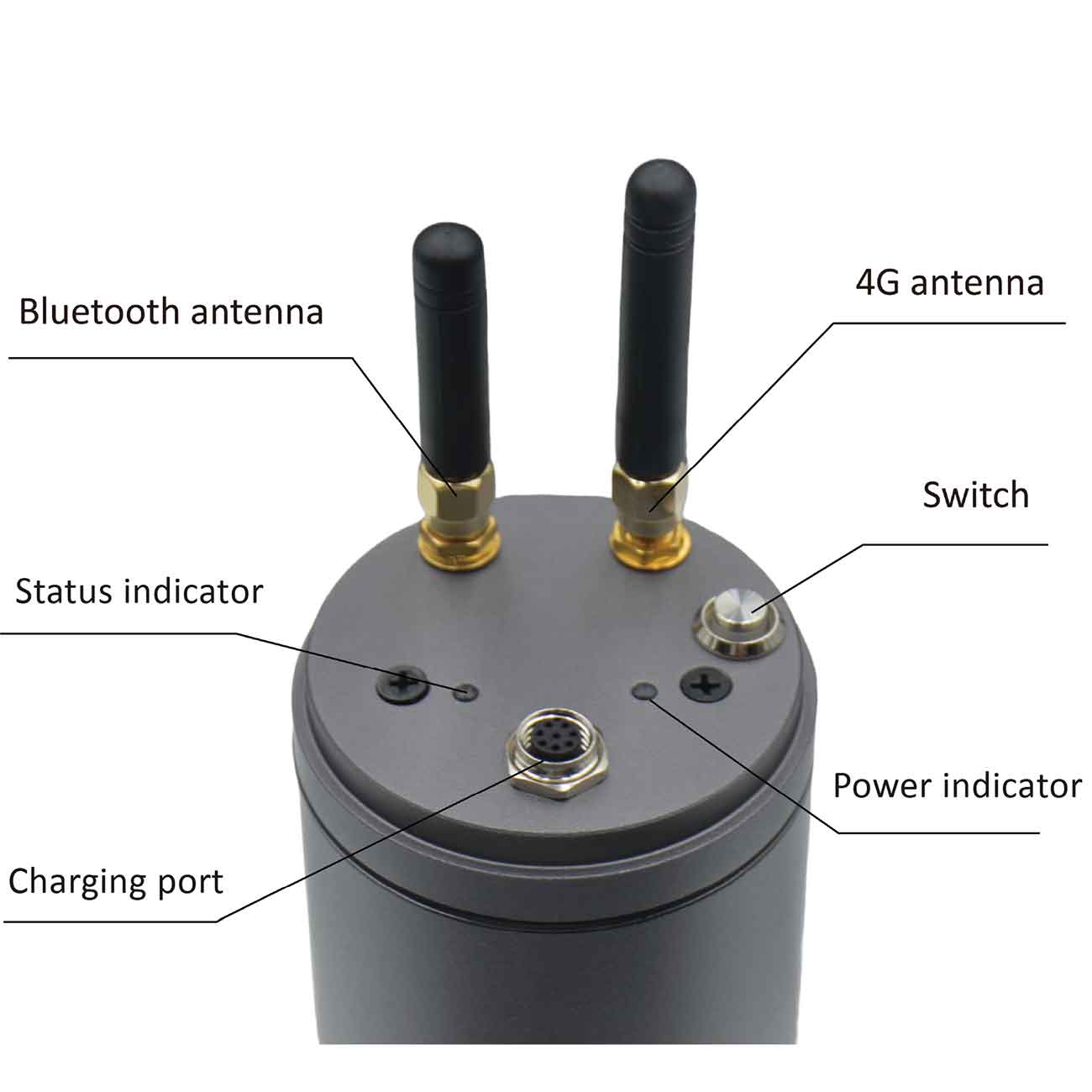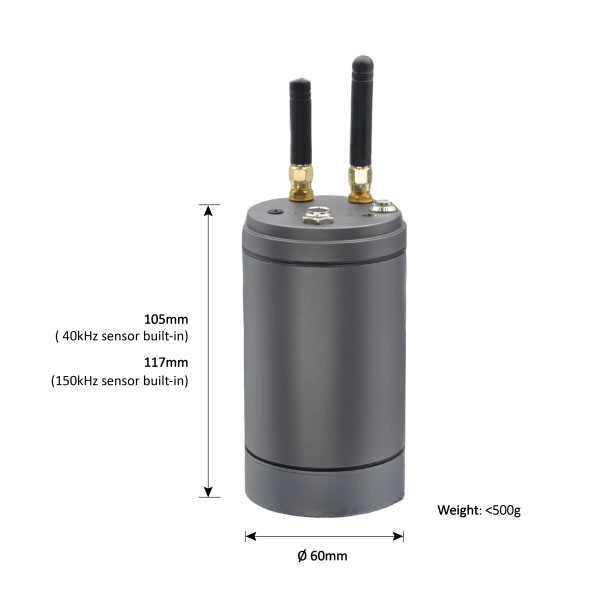 2.Technical Specifications
Hardware Specifications
Channel
Single-channel
Acquisition Mode
Timing acquisition mode and Continuous acquisition mode
Input Frequency
10kHz-400KHz
Sampling Accuracy
16-bit
Sampling Rate
Optional 200k/s, 500k/s, 1000k/s, 2000k/s
System Noise (Amplitude)
Better than 40dB
Sensor
Resonant frequency at 150k or 40k
Preamplifier Supply Voltage
28V / 12V / 5V
Digital Filter
128-order, free to set the low-pass, high-pass and band-pass filters from 0kHz to 1000kHz
Data Output
Parameters (Amplitude, RMS, energy, ASL), waveform
Communication Modes
4G or LoRa
On-site Inspection
Bluetooth
Bluetooth Range
13 meters
Operation Temperature
-20℃ to 60℃
Power Supply Mode
There are various options available:
1.External 8.4V DC power supply
2.Internal rechargeable battery (3000mA@8.4V)
3.Built-in lithium-ion battery with low self-discharge rate (7000mAh@7.4V, non-rechargeable)
Charging Voltage
8.4V
Protection Degree
IP65
Sampling Length
1,000 to 30,000 points
Trigger Mode
Time trigger
Dynamic Range
66 dB
Maximum Amplitude
100 dB
Timing Acquisition Mode Hibernation Time Accuracy
±1min
Timing Acquisition Mode Battery Life
Theoretical measurement: once per day for 1 second:
3 years ( Lithium-ion battery);
1 years ( rechargeable battery)
Continuous Acquisition Mode Battery Life
15h (rechargeable battery); 24h (Lithium-ion battery)
Dimension
60mm diameter, height 105mm (with 150k sensor but not antenna);
height 117mm (with 40k sensor but not antenna)
Weight (including battery, magnet, antenna)
<500g
Clients can access the IoT Cloud platform to configure RAEM2 settings and monitor its data in real time using computer/ mobile phone/ tablets. The Cloud platform also supports historical data review.
Parameters and waveform data are uploaded to the cloud platform automatically for remote real-time data monitoring functions.
Time triggers the signal acquisition, and the timing acquisition hibernation time can be set to any time.
Connect to the Internet of Things platform using 4G / LoRa.
With Bluetooth inspection function and the Bluetooth APP, it can be used for the on-site inspection. The APP supports real-time waveform and parameter data reviewing, and also supports historical data reviewing and online configuration functions. The modified configurations are automatically synchronized to the IoT cloud platform.
3.Platforms
3.1 Qingcheng IoT Cloud Platform:
(1)Waveform and Parameters Display in real-time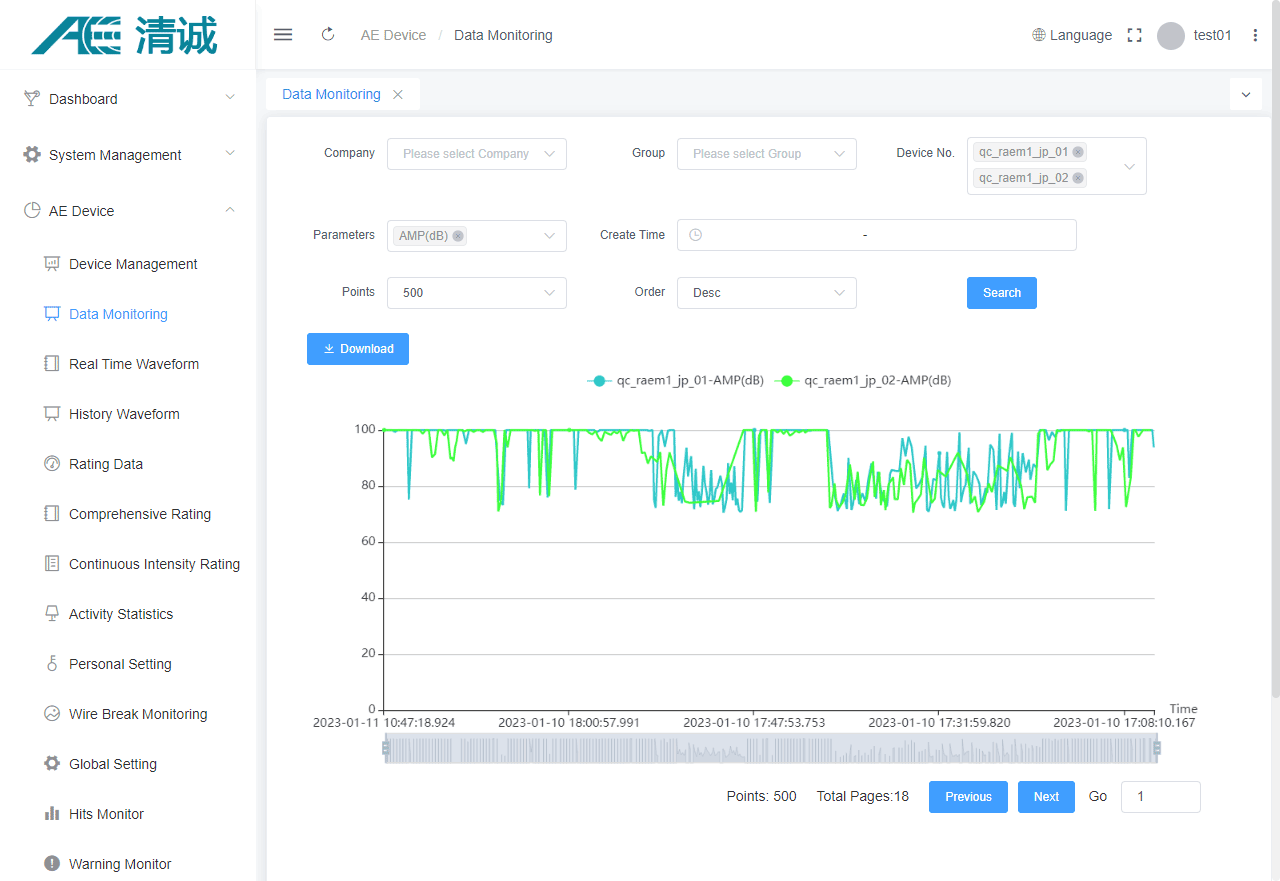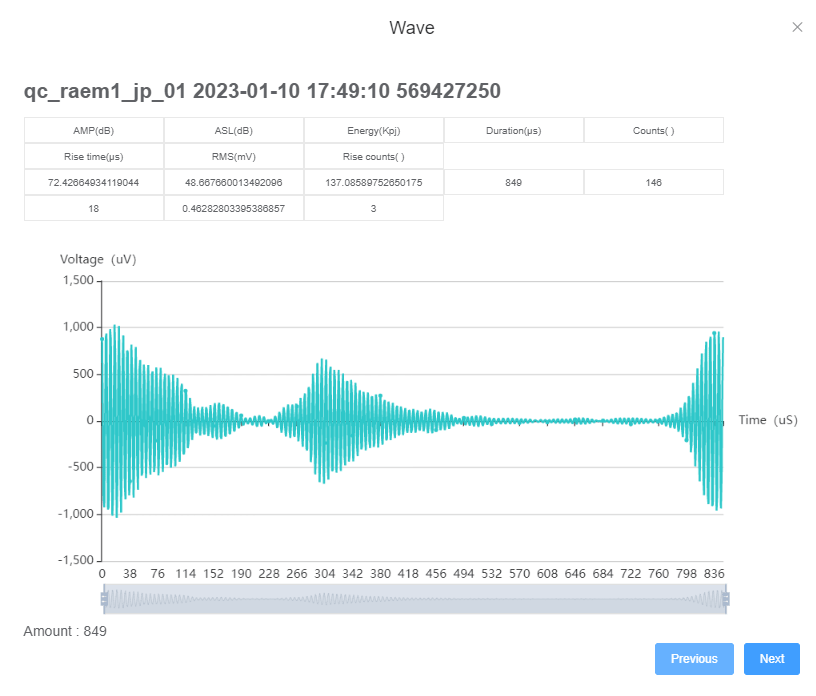 (2) Historical Waveform and Parameter Query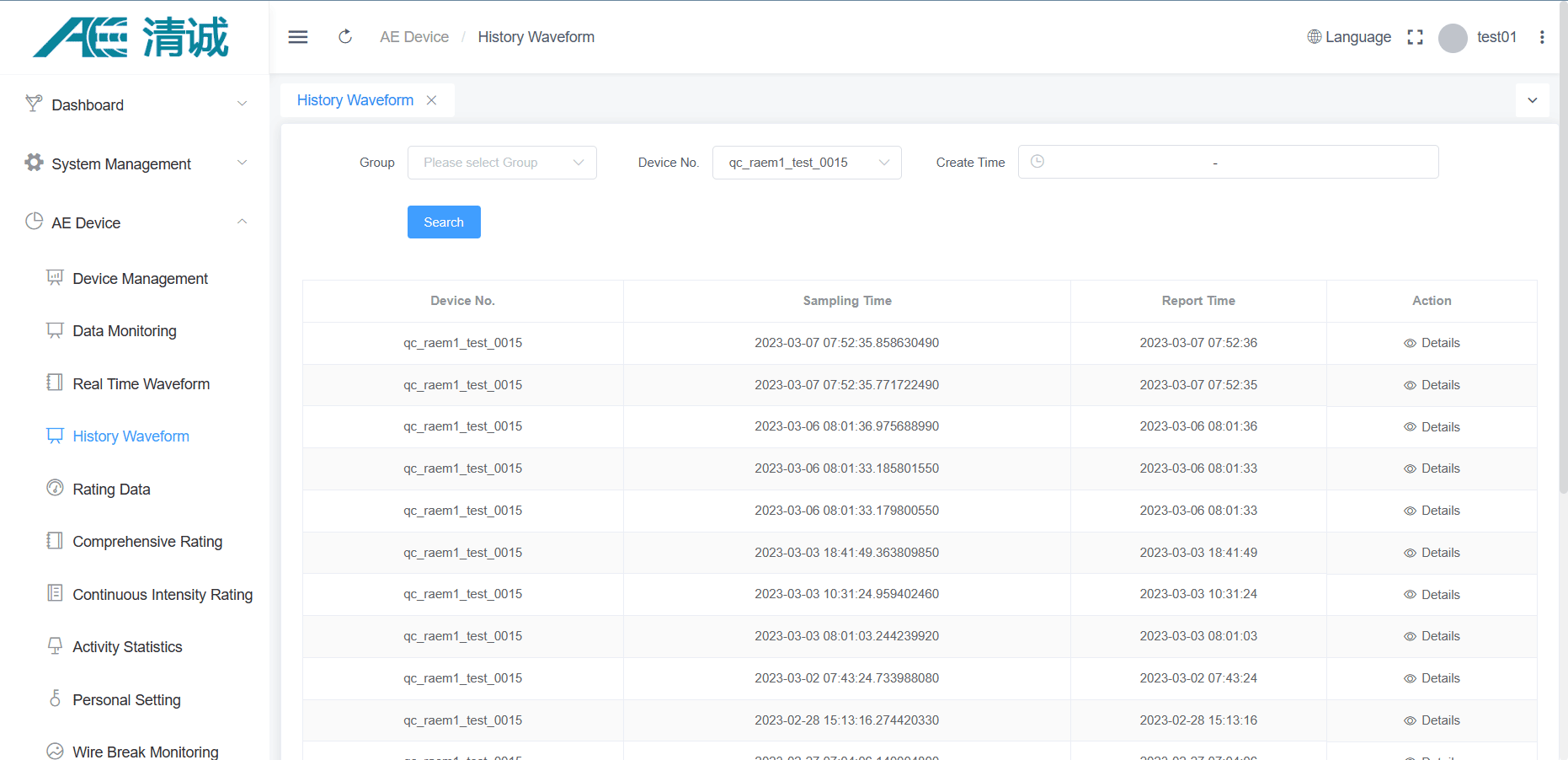 (3) Device Online Configuration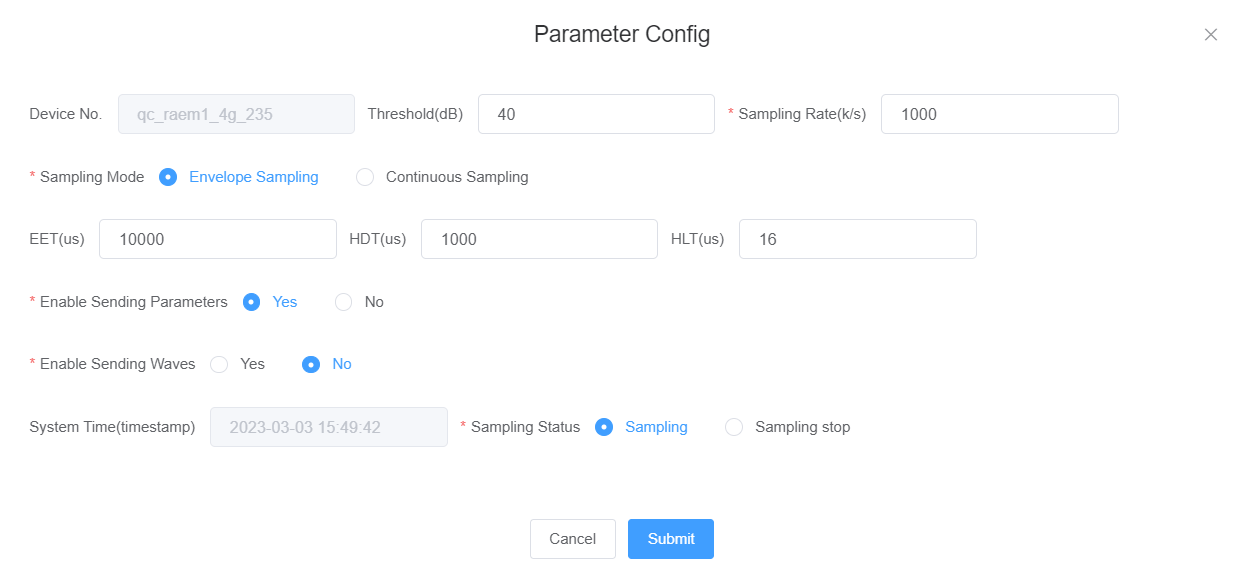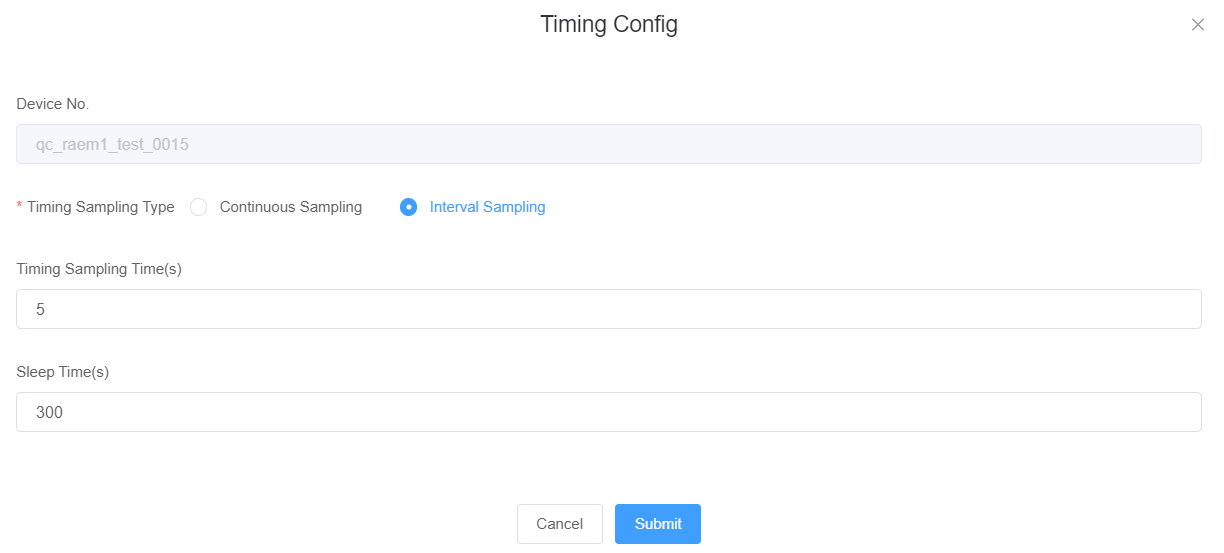 3.2 Bluetooth Inspection Mobile APP
(1) Online real-time parameters and waveform display (the number of display points per page are configurable: 10, 20, 50, 100, 200, 500, 1000)
(2) Historical waveform and parameter query (parameters are amplitude, average signal level (ASL), energy, RMS; the display time accuracy is in minutes)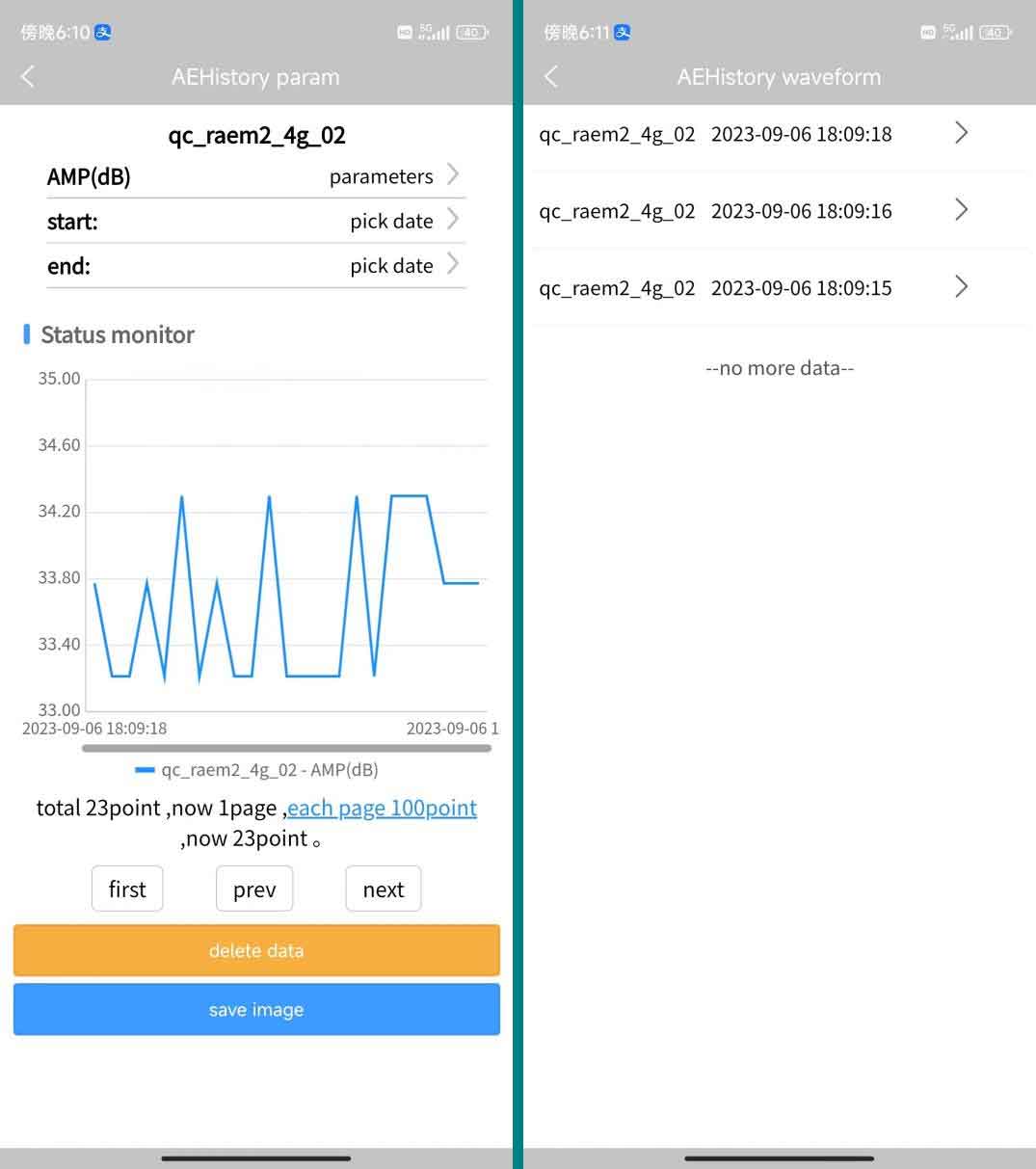 (3) Online Configuration Settings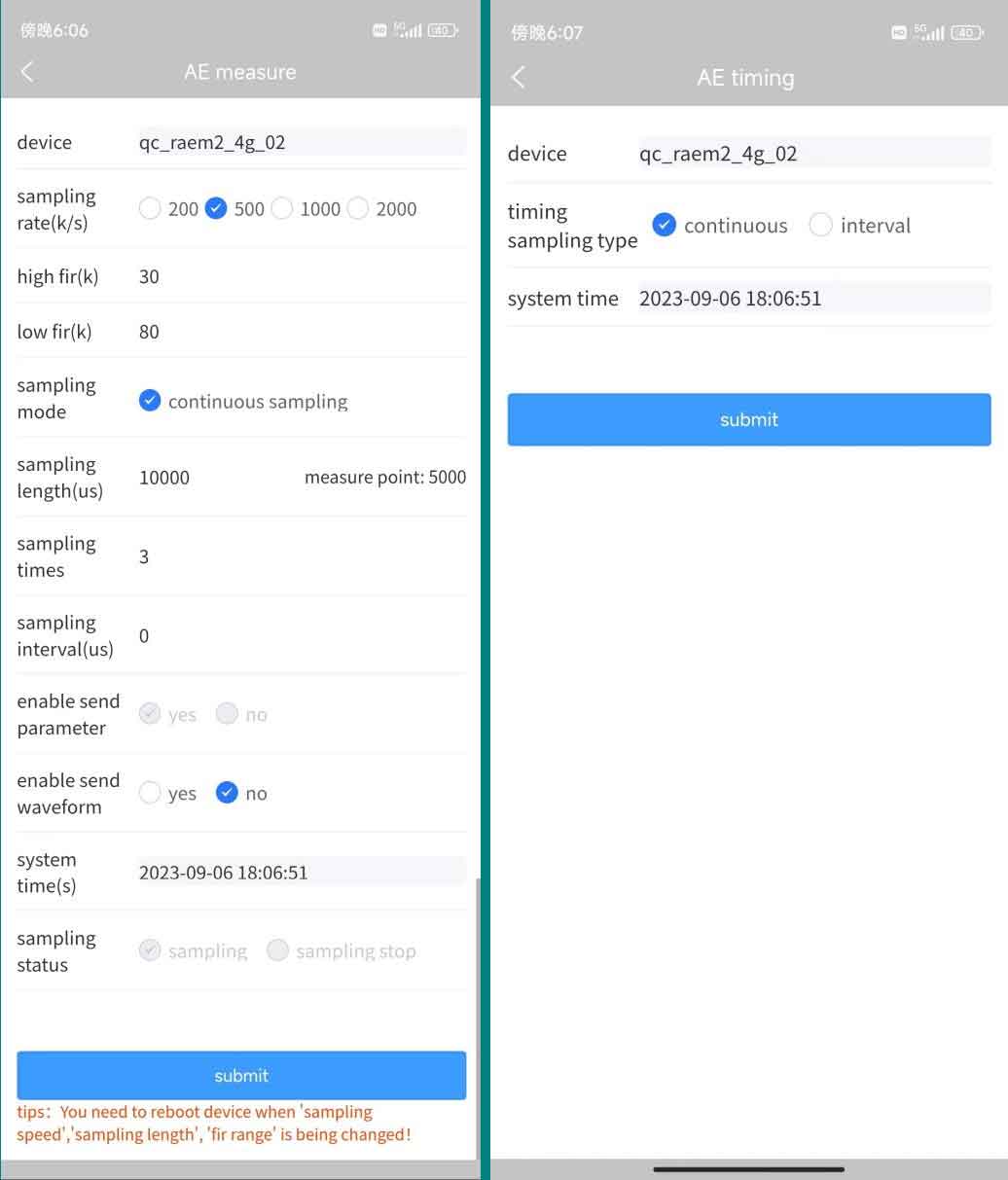 4.Typical Applications
4.1 Steady-state AE signal acquisition. Steady state signals don't disappear once happening, for example bearing wear, pipes or valves leakage, tool wear, etc.;
4.2 Time parameters, like RMS, ASL and energy, are suitable for fault diagnosis and condition monitoring and other steady-state acoustic emission signal monitoring and detection;
4.3 The acquisition modes can be set according to the application requirements. The main applications use the changes of parameters over time as the main analysis method;
4.4 Low power consumption and suitable for long-term monitoring of applications without external power supply. Using battery supply state can work for 3 years.
4.5 Specific applications:
Condition monitoring and fault diagnosis of the wear or lubrication status of rotating machinery (bearings, tool machining, gearbox, etc.);
Leakage monitoring of pipes, valves and containers;
Damage monitoring of continuous damage signals, e.g. serious damage of wind turbine blades, etc.
Further Information

RAEM2 Datasheet.pdf
Related Applications
Compatible with a variety of communication methods, long transmission distance, fast speed. Compact design and easy installation.