Tank degradation is mainly caused by corrosion. Physical and chemical conversions take place at the boundary area between the liquid storage product and the bottom plate. There are different methods to estimate the duration of a service period for a certain tank, most of which are based on experience. The common link between the experience-based methods is that they do not consider the actual tank condition. Knowing the actual tank condition would enable the maintenance department to point out the tanks, which must be repaired while leaving the others in operation. That would give an economic advantage by opening only tanks in bad condition for inside inspection and appropriate repair.
Acoustic emission testing on flat-bottomed storage tanks is a beneficial method for tank operators to obtain information about possible corrosion or even leakage of the bottom without opening the tank. Through the multi-channel acoustic emission testing instrument, appropriate number of channels could be chosen according to the size of the tank and evenly distribute the acoustic emission sensors around the tank bottom plate. The defects of bottom plate were visualized by means of signal acquisition, data analysis and processing and software display, and the defects were located with suitable location algorithms.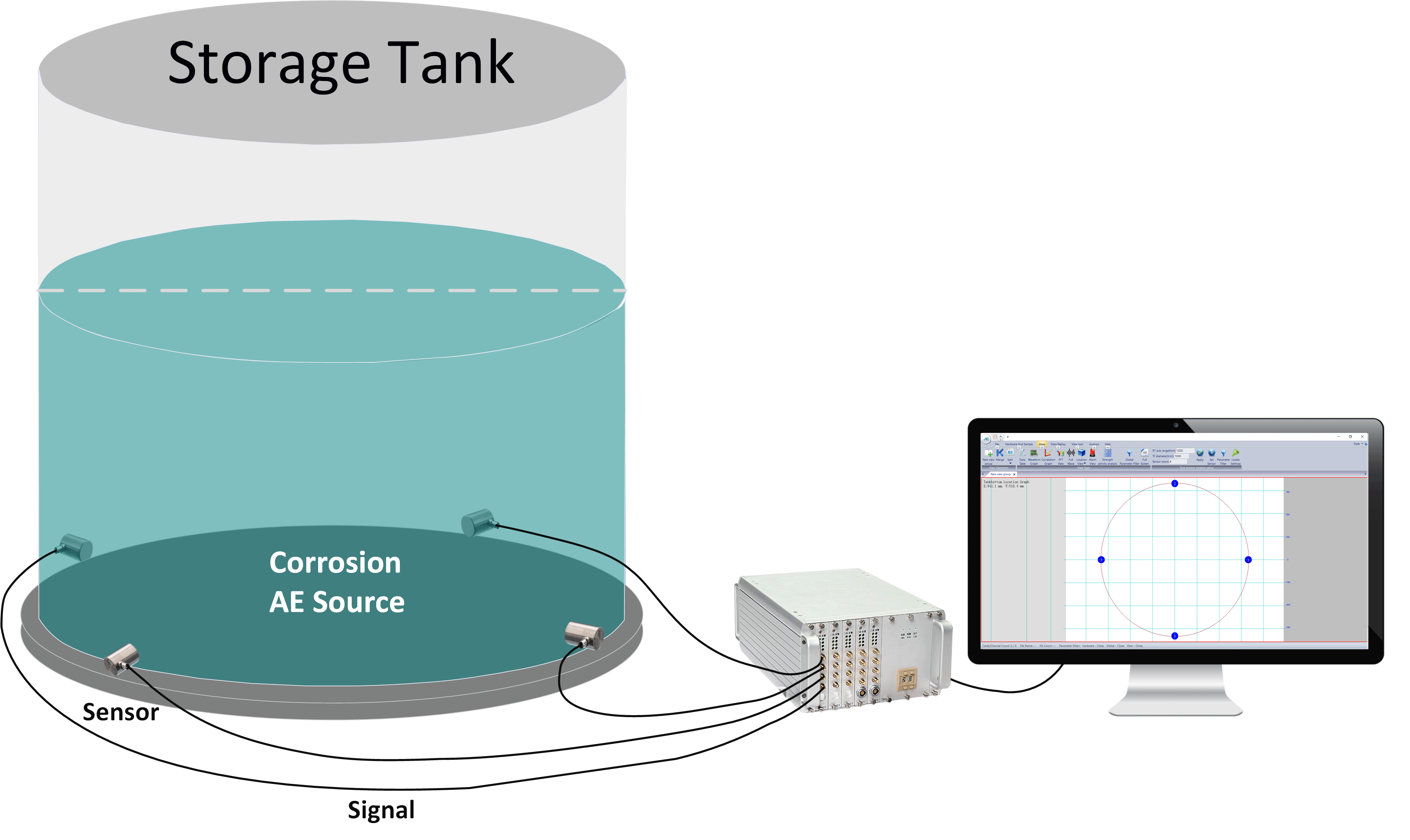 According to different needs of customers, we have two different programs, periodical testing, and long-term monitoring. The differences between the two programs are as follows:
Periodical detection

Long-term monitoring

Detection system

Operating system

Channels

Multi channels, cascadable to 100+ channels

6 channels, cascadable to 1000+ channels

Acoustic emission sensors

Sampling rate

Waveform sample

Analog filters

High-pass filters: 20kHz, 100kHz, 400kHz
Lowpass filters: 100kHz, 400kHz, 1200kHz

High-pass filters: 30KHz, 125KHz
Low-pass filters: 80KHz, 175KHz

Digital filters

Advantages

USB3.0 high-speed data transmission, good expansion ability, stable performance, more accurate defect location function. Suitable for regular corrosion detection of large storage tanks.

Based on Linus operating system, stable performance, can be long-term continuous monitoring.