Your position:HOME > PRODUCTS > Online Monitoring System >
RAEM1-6 Acoustic Wave (Acoustic emission) Wireless Unattended Operation Monitor
Model:
RAEM1-6
Description:
Based on Acoustic Wave (Acoustic Emission) technology and Linux system, and could achieve long-term stable running. combined with Qingcheng IoT cloud platform, it could meet the different requirements of application.
Features:
Compatible with a variety of communication methods, long transmission distance, fast speed. Compact design and easy installation.
ENQUIRY NOWCONTACT:+86-20-32290092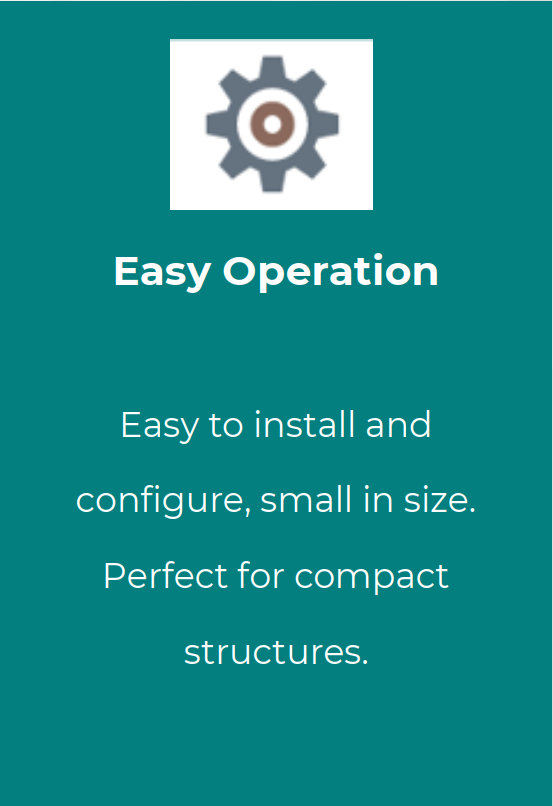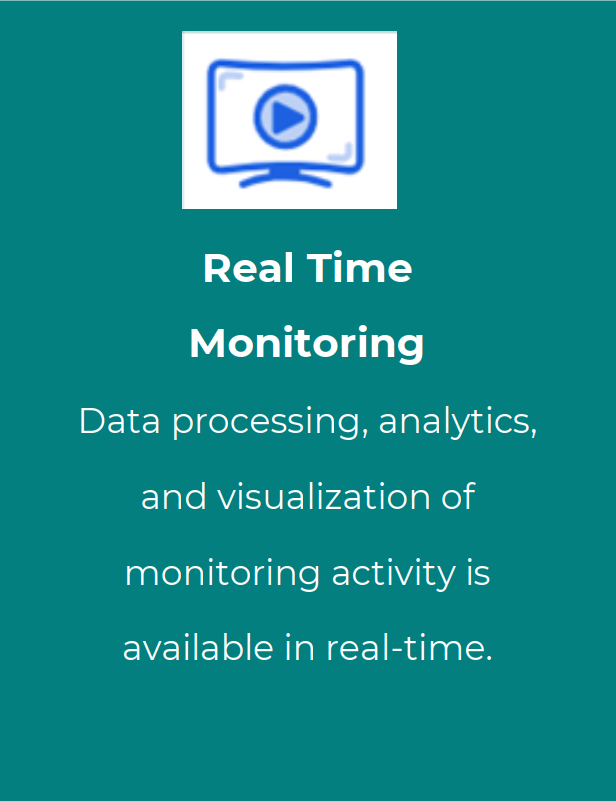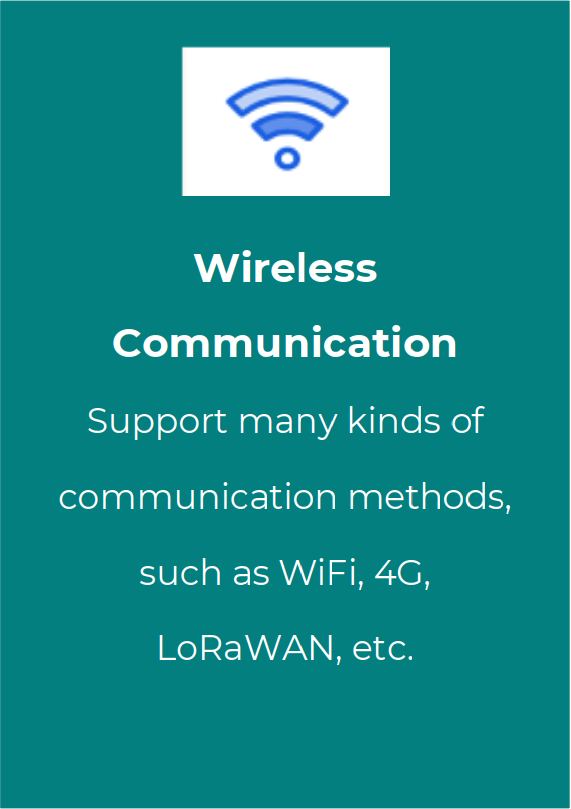 Aluminum alloy shell, which contains 2-6 channels, and can be cascaded up to more than 36 channels.

An AE sensor is connected to one of the channels. A maximum of 6 sensors can be connected simultaneously.

Each AE channel needs to be connected to a built-in preamp AE sensor. The number of chassis channels can also be configured as user requirements.

Integrating signal acquisition, signal analysis and data communication.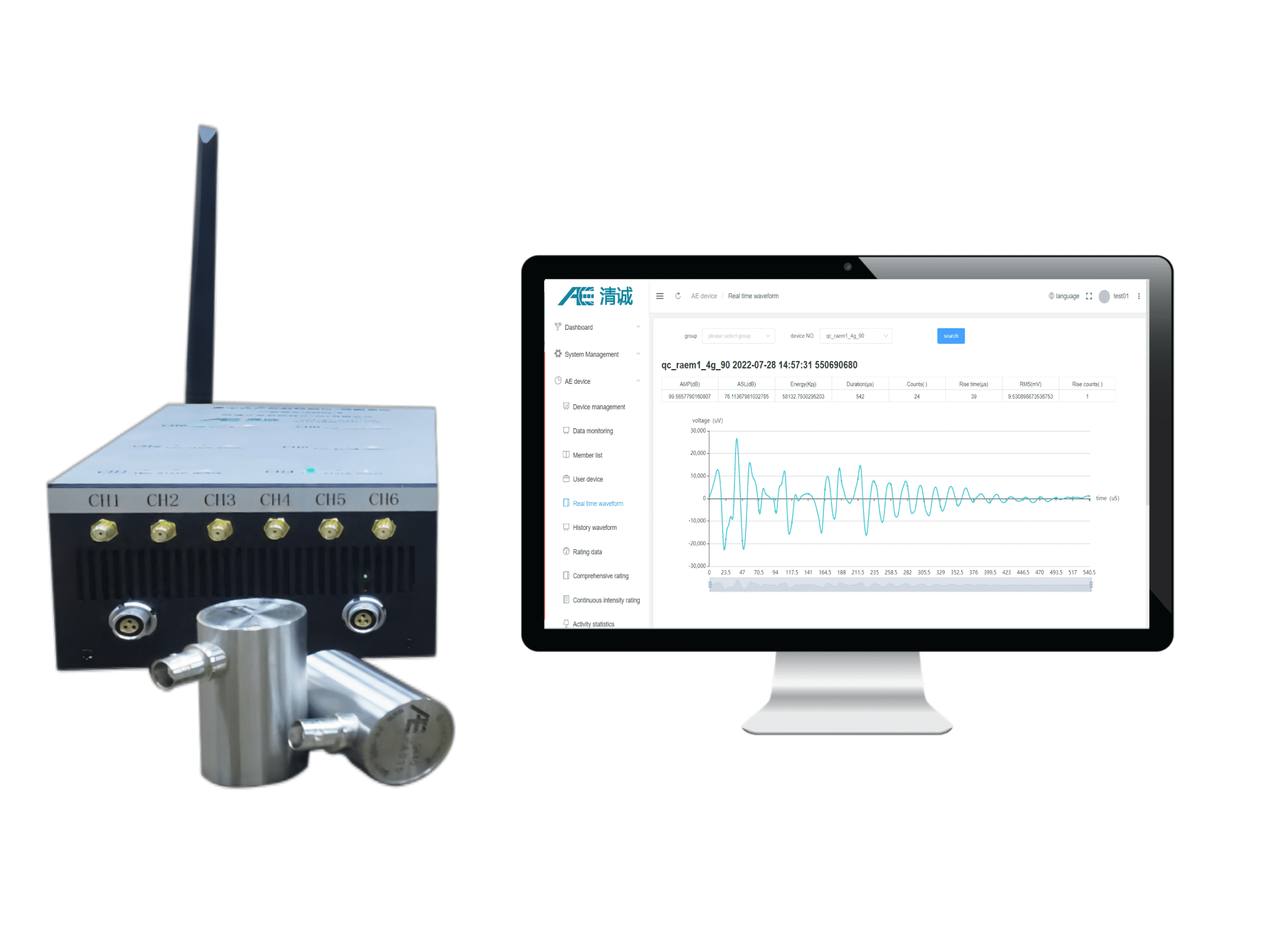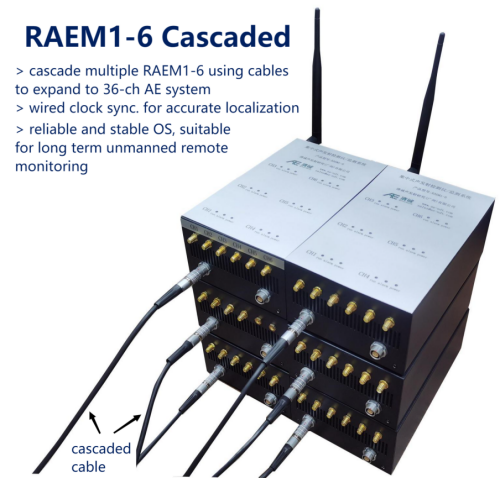 RAEM1-6 processes the acquired signals and transmits them to the cloud platform for users to view and download waveform, parameters and rating data in real time.

A variety of data communication modes (4G, Ethernet, WiFi, etc.), can also be selected according to user requirements.

64G storage per channel(can be expanded up to 512G)

Multiple acquisition modes: Envelope acquisition, continuous parameter acquisition, interval acquisition, and schedule acquisition.

Based on Linux system, high feasibility, stability and security

Threshold trigger or time trigger

Wired synchronization, synchronization clock ≤10us

Can be used as an AE detector

Data can be uploaded to the specific Cloud Server as required by the customer and can also be uploaded to Qingcheng Cloud platform or Ali Cloud platform for display and analysis. It can also be sent directly to SWAE software for real-time analysis and processing.
Technical parameters
Channel: 6 channel

Sampling accuracy: 16-bit

Trigger method: Threshold/time trigger

System noise: <30dB

Sampling rate: Max.2M/s per channel

Dynamic range: 70dB

Protect grade: IP65

Input bandwidth: 10KHz-800KHz

Analog filter: High-pass filters: 30KHz, 125KHz Low-pass filter: 80KHz, 175KHz

Digital filter: Any value within 0KHz~1000KHz can be set freely, high pass, low pass, band pass

Sensor: Integral sensors with built-in preamplifier (Choose one of three preamp options when ordering: 40dB28V, 34dB12V or 26dB5V)

Data output: Waveform, AE parameters and parameter rating

AE parameter: Arrival time, amplitude, counts, energy, rise time, duration,RMS,ASL

SD card: 64G(can be expanded up to 512G)

Comm method: 4G、network port、Wi-Fi、RS485(customized with NB-IOT, Lora etc.)

Working temp.: -20℃~60℃(Wi-Fi version: 0℃~60℃)

Power supply: DC 12V

Weight: 1.6 Kg

Size (L x W x H): 22mm x 13mm x 8mm

Clock synch: Less than 10 us



Further Information





Compatible with a variety of communication methods, long transmission distance, fast speed. Compact design and easy installation.