Your position:HOME > PRODUCTS > Desk Type AE System > RAEM AW(AE) Detection System >
RAEM1-6 Acoustic Emission Detection System
Model:
RAEM1-6
Description:
RAEM1-6 multi-channel detector was developed based on acoustic wave( acoustic emission) technology and Linux system, combined with SWAE software, it could effectively carry out acoustic emission nondestructive testing for most of the industrial equipment
Features:
Wireless connection, easy to install, battery built-in or external, and optional adapter power supply.
ENQUIRY NOWCONTACT:+86-20-32290092



RAEM1-6 Detection System

Working principle:
1. The RAEM1-6 is installed on the tested device through magnetic suction.
2. When the detected equipment is abnormal, special acoustic wave(AE) signal will be generated (what is acoustic wave?)
3. The detector sample, analyzes and processes the signal, and transmits the data to the PC through Wi-Fi or network cable.
4. Acoustic emission software displays and processes acoustic wave(AE) signals to judge the health condition of the equipment and accurately locate the defect location.
Advantages:
1. Wireless connection, reduce the cable connection workload and save cable consumption.
2. Simple installation, RAEM1-6 magnetic suction base can be directly sucked on the equipment.
3. Real-time monitoring, acoustic wave processing software can carry out real-time display and processing of signal data.
4. Various acoustic wave parameters, Arrival time, amplitude, counts, energy, rising time, duration, RMS, ASL
5. Accurate clock synchronization, can achieve defect location with software algorithm.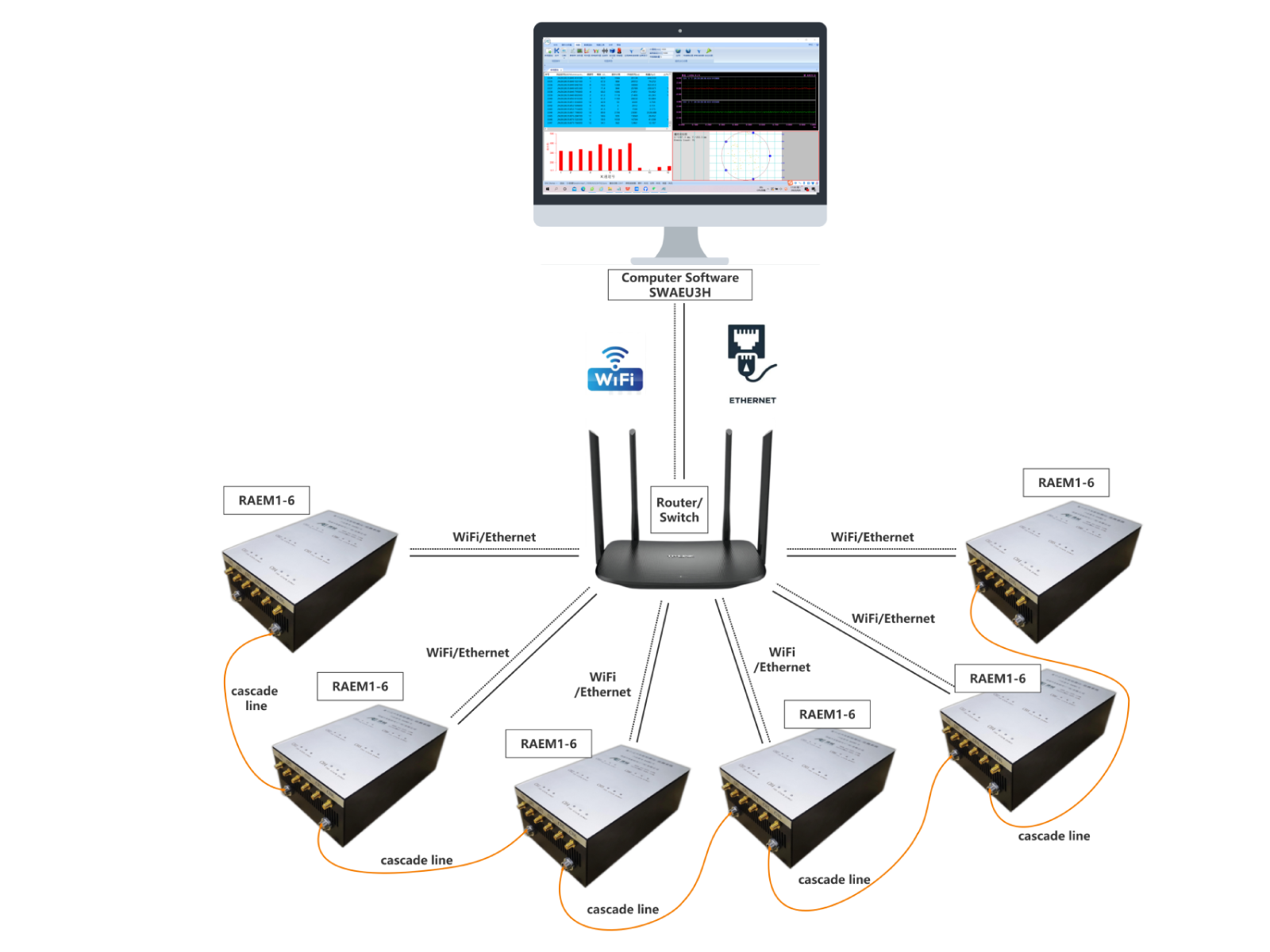 Aluminum alloy shell, which contains 2-6 channels, and can be cascaded up to more than 36 channels.

An AE sensor is connected to one of the channels. A maximum of 6 sensors can be connected simultaneously.

Each AE channel needs to be connected to a built-in preamp AE sensor. The number of chassis channels can also be configured as user requirements.

Integrating signal acquisition, signal analysis and data communication.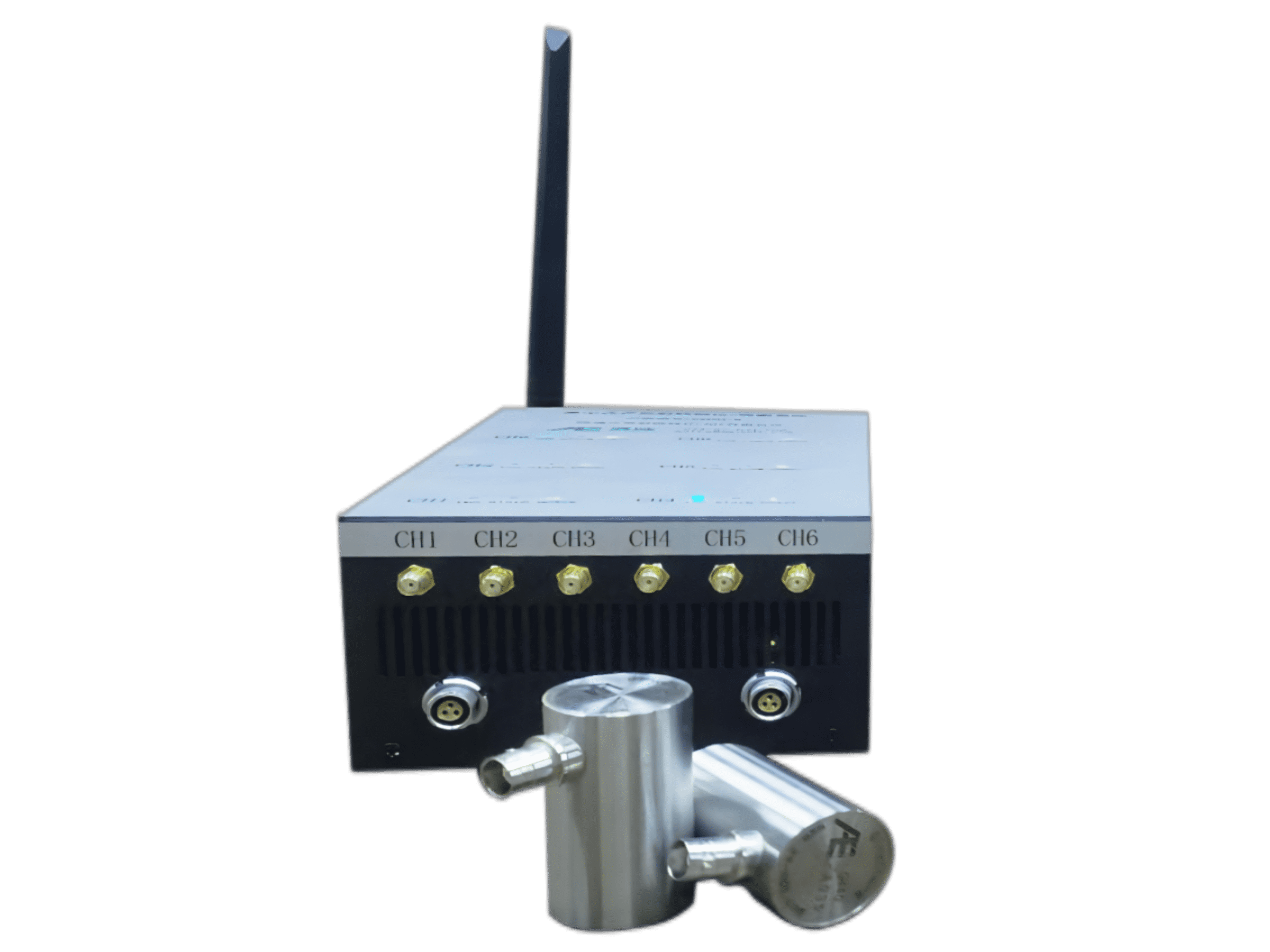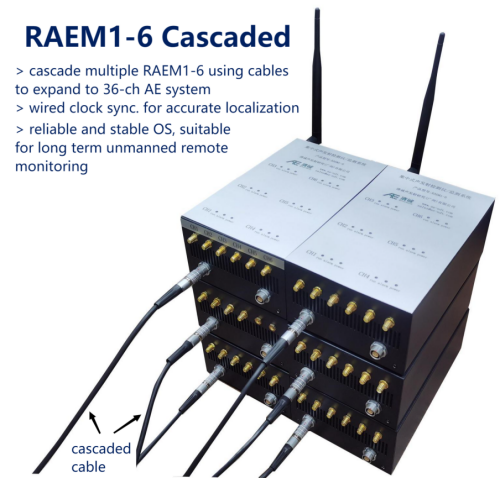 RAEM1-6 processes the acquired signals and transmits them to the cloud platform for users to view and download waveform, parameters and rating data in real time.

A variety of data communication modes (4G, Ethernet, WiFi, etc.), can also be selected according to user requirements.

64G storage per channel(can be expanded up to 512G)

Multiple acquisition modes: Envelope acquisition, continuous parameter acquisition, interval acquisition, and schedule acquisition.

Based on Linux system, high feasibility, stability and security

Threshold trigger or time trigger

Wired synchronization, synchronization clock ≤10us
Channel: 6 channel

Sampling accuracy: 16-bit

Trigger method: Threshold/time trigger

System noise: <30dB

Sampling rate: Max.2M/s per channel

Dynamic range: 70dB

Protect grade: IP65

Input bandwidth: 10KHz-800KHz

Analog filter: High-pass filters: 30KHz, 125KHz Low-pass filter: 80KHz, 175KHz

Digital filter: Any value within 0KHz~1000KHz can be set freely, high pass, low pass, band pass

Sensor: Integral sensors with built-in preamplifier (Choose one of three preamp options when ordering: 40dB28V, 34dB12V or 26dB5V)

Data output: Waveform, AE parameters and parameter rating

AE parameter: Arrival time, amplitude, counts, energy, rise time, duration,RMS,ASL

SD card: 64G(can be expanded up to 512G)

Comm method: 4G、network port、Wi-Fi、RS485(customized with NB-IOT, Lora etc.)

Working temperature: -20℃~60℃(Wi-Fi version: 0℃~60℃)

Power supply: DC 12V

Weight: 1.6 Kg

Size (L x W x H): 22mm x 13mm x 8mm

Clock synch: Less than 10 us
SWAE software introduction: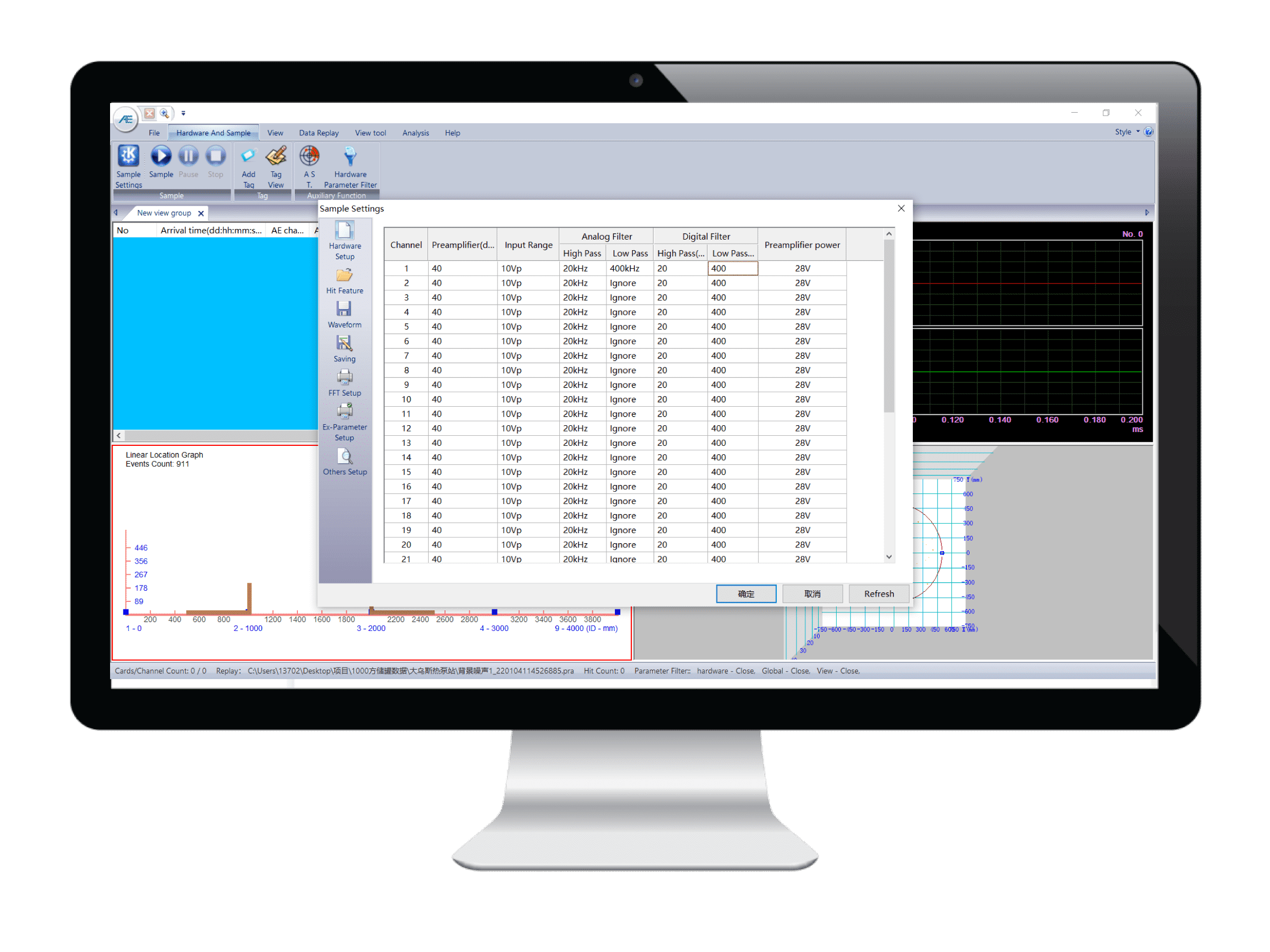 Various firmware configurations and acquiring Settings
Several combinations of analog and digital filters

0V, 5V, 28V phantom power supply

HIT feature setting:Threshold、HDT、HLT、PDT

Various waveform acquisition Settings, such as triggering mode, sampling rate and length, and pre-sampling etc.

Parameters and waveforms are stored separately

FFT setting and ex-parameters setting

Tag is added at any time during collection

Pulse width and pulse interval can be set in AST, and each channel can be automatically tested in turn.
Various view displays
The interface can be divided and reformulated according to requirements, and the background color can be customized

Customize parameters acquisition: AMP, ASL, Energy, Duration, Counts, Rise time, RMS, Rise counts etc.

Multi-channel waveforms are displayed simultaneously

Customized parameter correlation graph, histogram, scatter diagram, linear graph and color are selectable

FFT and full waveform real-time display

3D positioning diagram display and expand to full screen with zooming, linear, planar, cube, cylinder, tank bottom, sphere location.

Alarm display according to various parameters set

Full screen display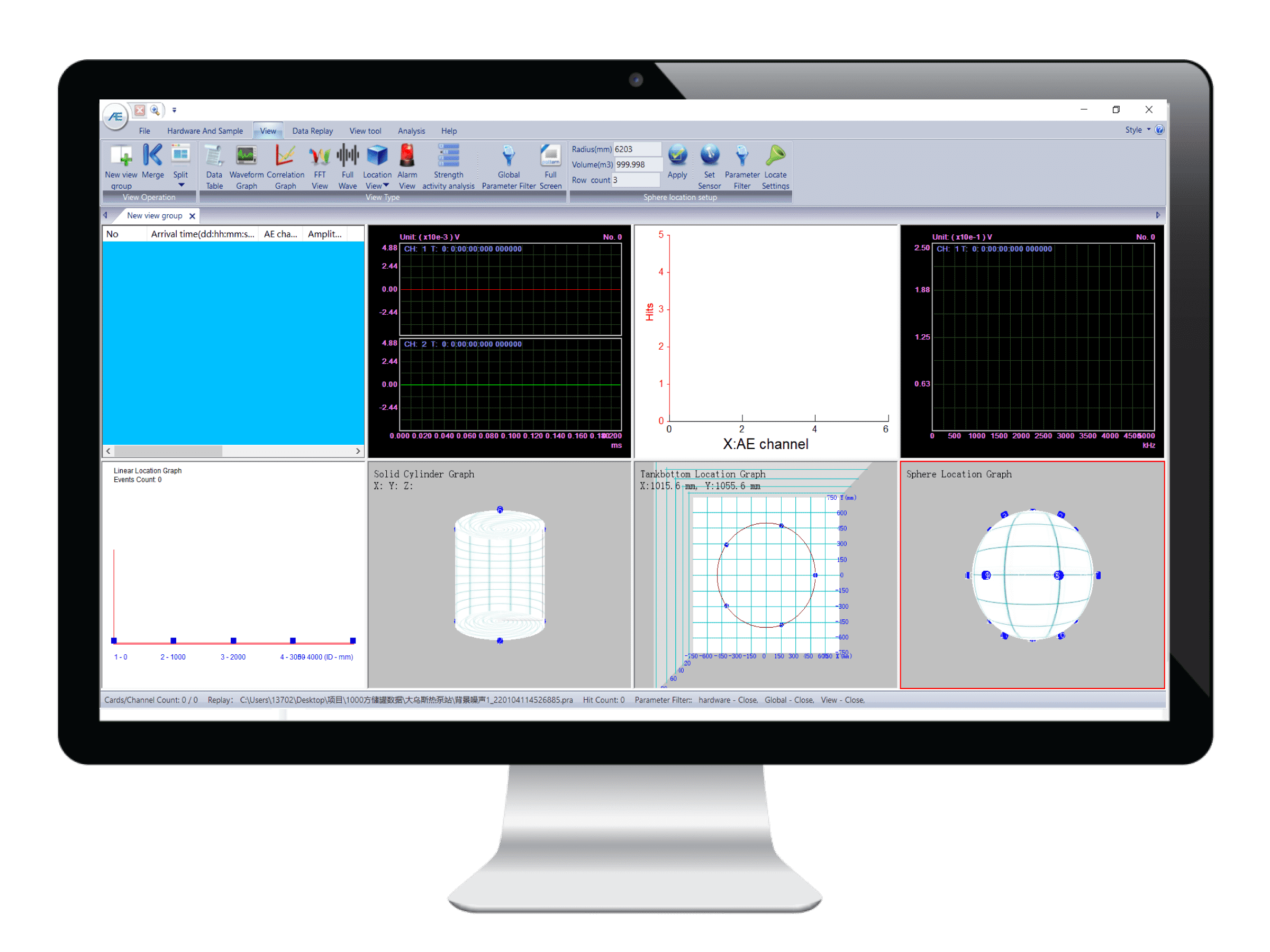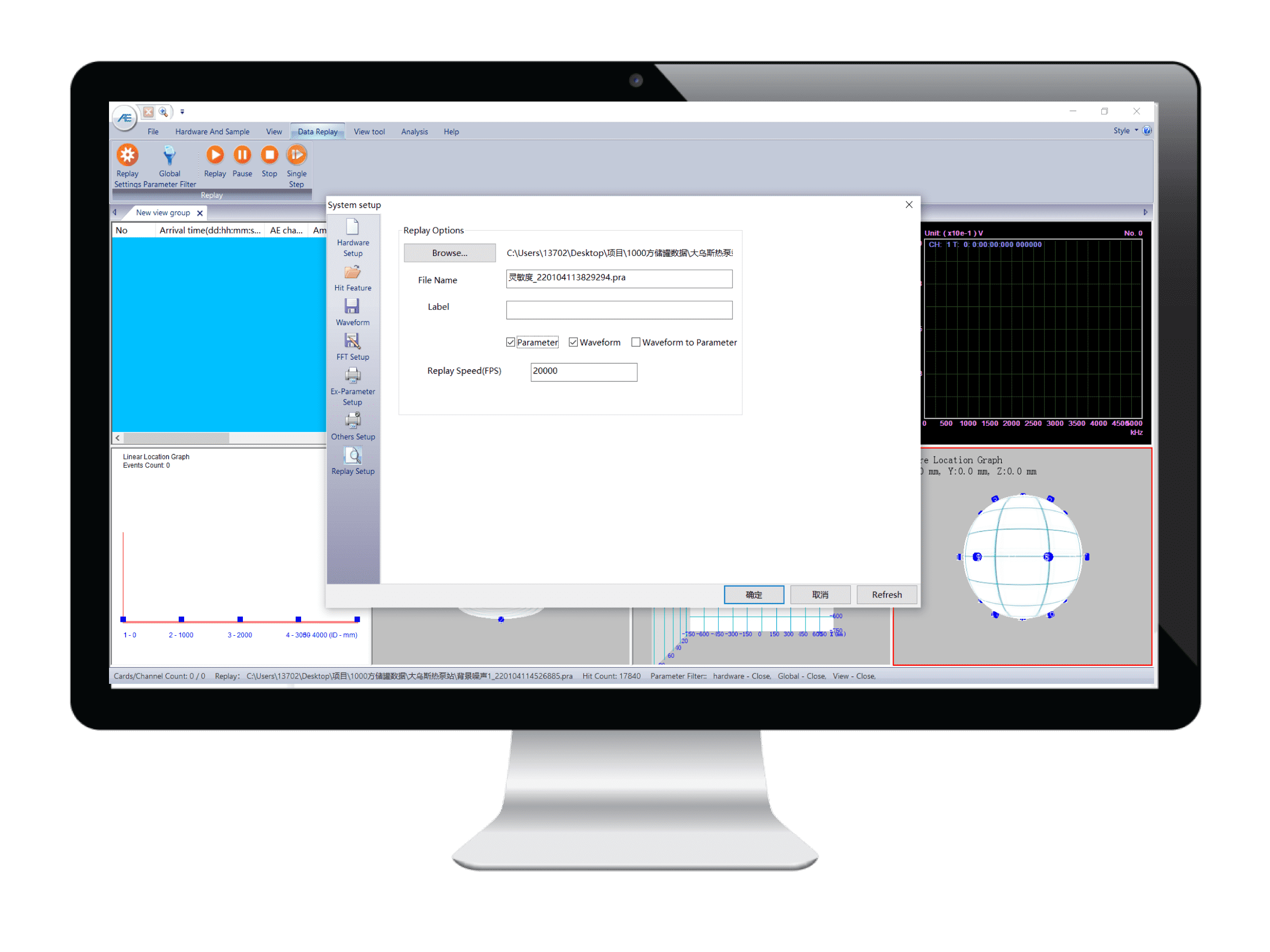 Full replay function
Simultaneous replay or separate replay of parameters and waveforms

Waveform generate parameters

Parameter re-filter as required

Replay speed is settable
Multiple data analysis tools
FFT analysis

Wavelet analysis

Intensity and activity analysis

Clustering analysis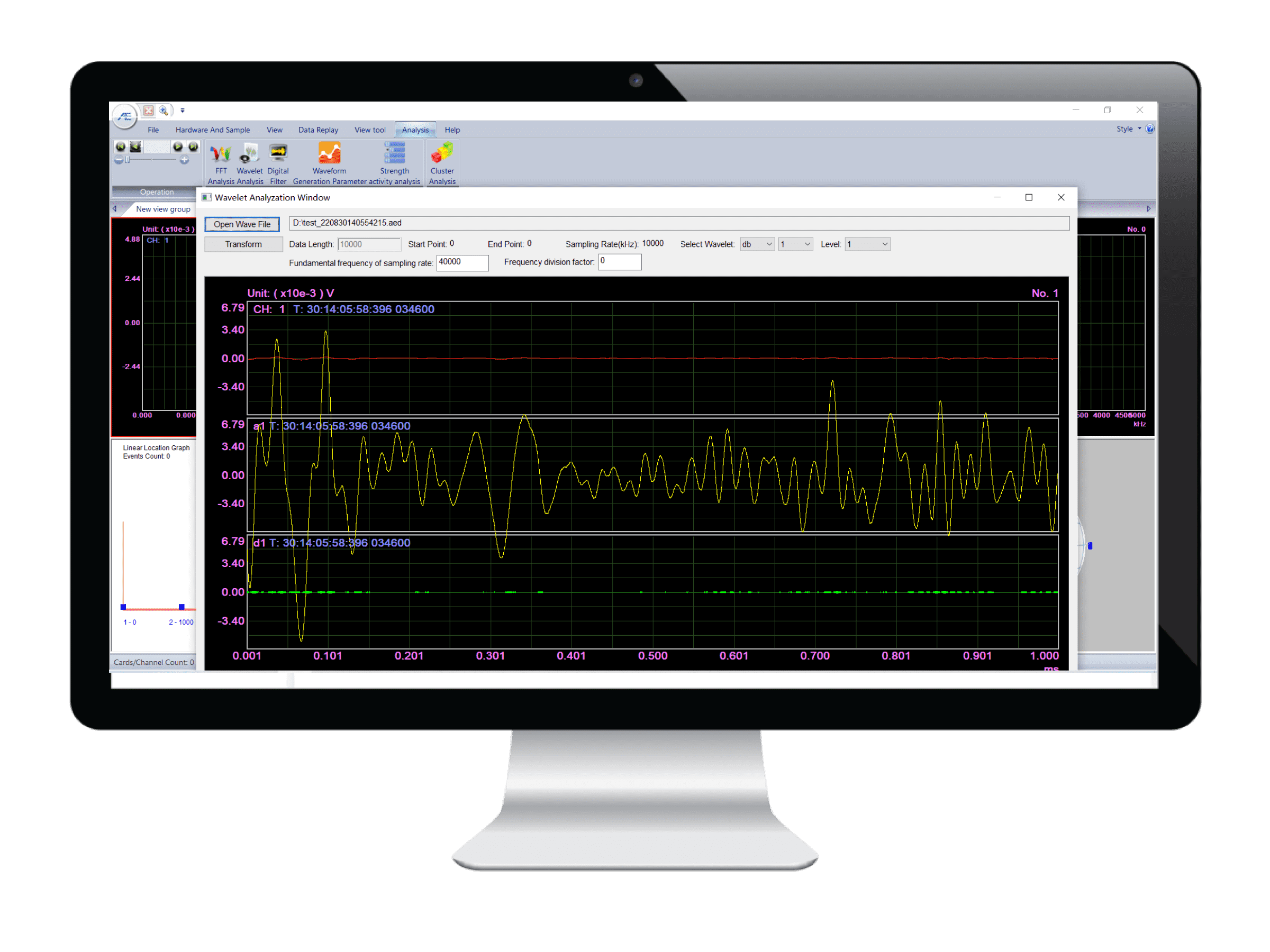 Bridge wire rope breaking detection of bridge structure;

Storage tank/water pipe/valve leakage detection;

Rotating machinery fault diagnosis state detection;

Tool wear detection;

Structural crack detection;

Crack propagation damage detection for container pipes;

Acoustic emission detection of tank bottom plate;

Coal seam drill pipe detection;

Detection of slope and other geological structures, etc.
Wireless connection, easy to install, battery built-in or external, and optional adapter power supply.