Your position:HOME > PRODUCTS > Online Monitoring System >
RAEM1 Acoustic Wave (Acoustic emission) Wireless real-time Monitor
Model:
RAEM1
Description:
Based on Acoustic Wave (Acoustic Emission) technology and Linux operating system, could achieve long-term stable running. combined with Qingcheng IoT cloud platform, it could meet the different requirements of application.
Features:
Compatible with a variety of communication methods, long transmission distance, fast speed. Compact design and easy installation.
ENQUIRY NOWCONTACT:+86-20-32290092
RAEM1
Description
RAEM1 system is an IIoT-AE product designed for remote unattended acoustic wave (acoustic emission) long term monitoring applications. RAEM1 is a single channel AE monitoring system integrated with data acquisition, processing and transmission in one small cylinder.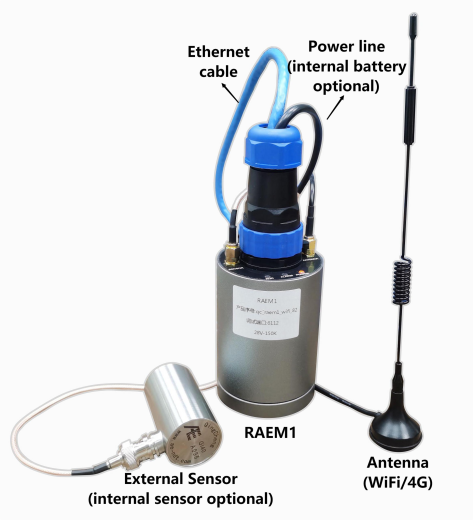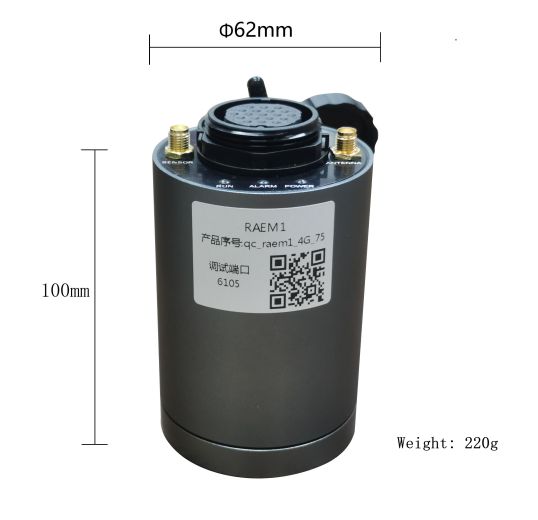 RAEM1 is a compact all-in-one AE monitoring system, whose easy installation and automatic operation makes the unattended remote monitoring achievable.
RAEM1 System Elements
The RAEM1 package consists of a RAEM1 cylinder, an AE sensor, a power adaptor and some accessories. When the RAEM1 detects AE signals on the sensor, it will automatically process, analysis and transmit the result data to the desired terminals.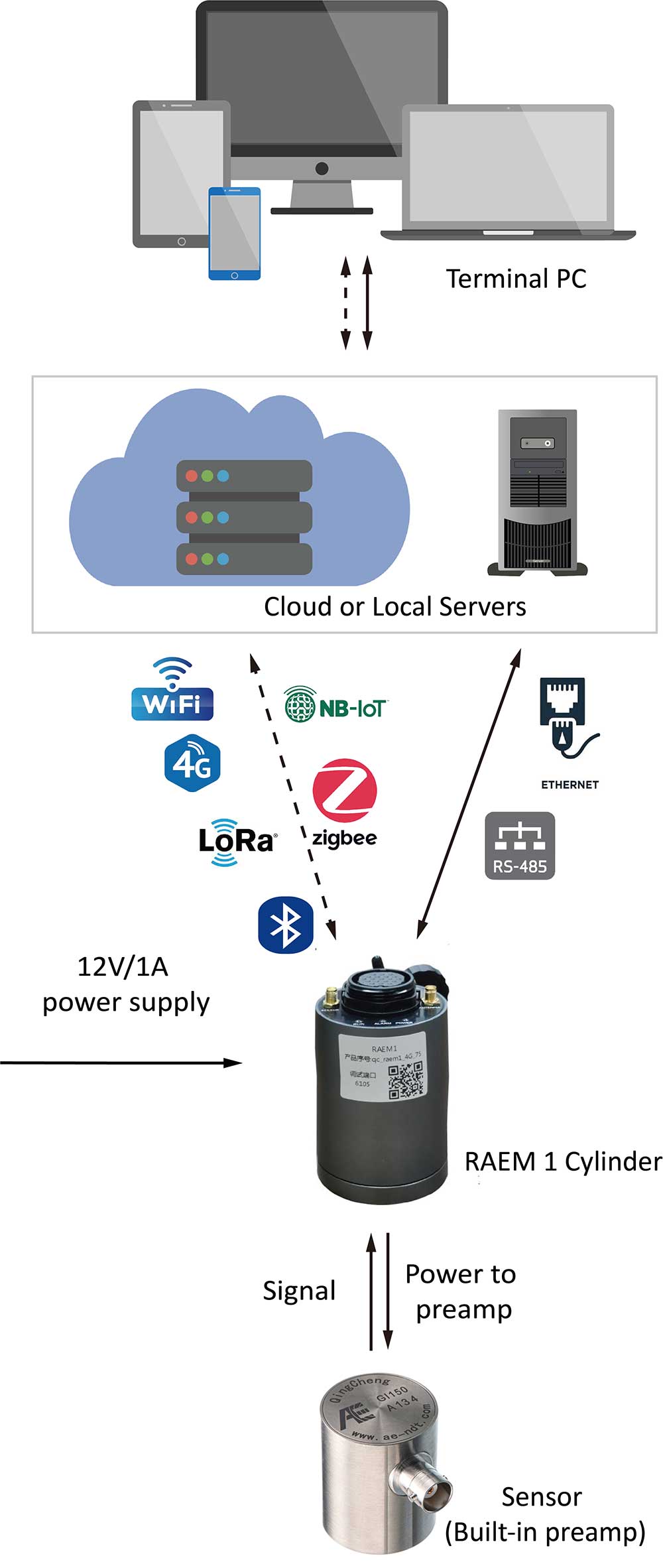 RAEM1 System Structure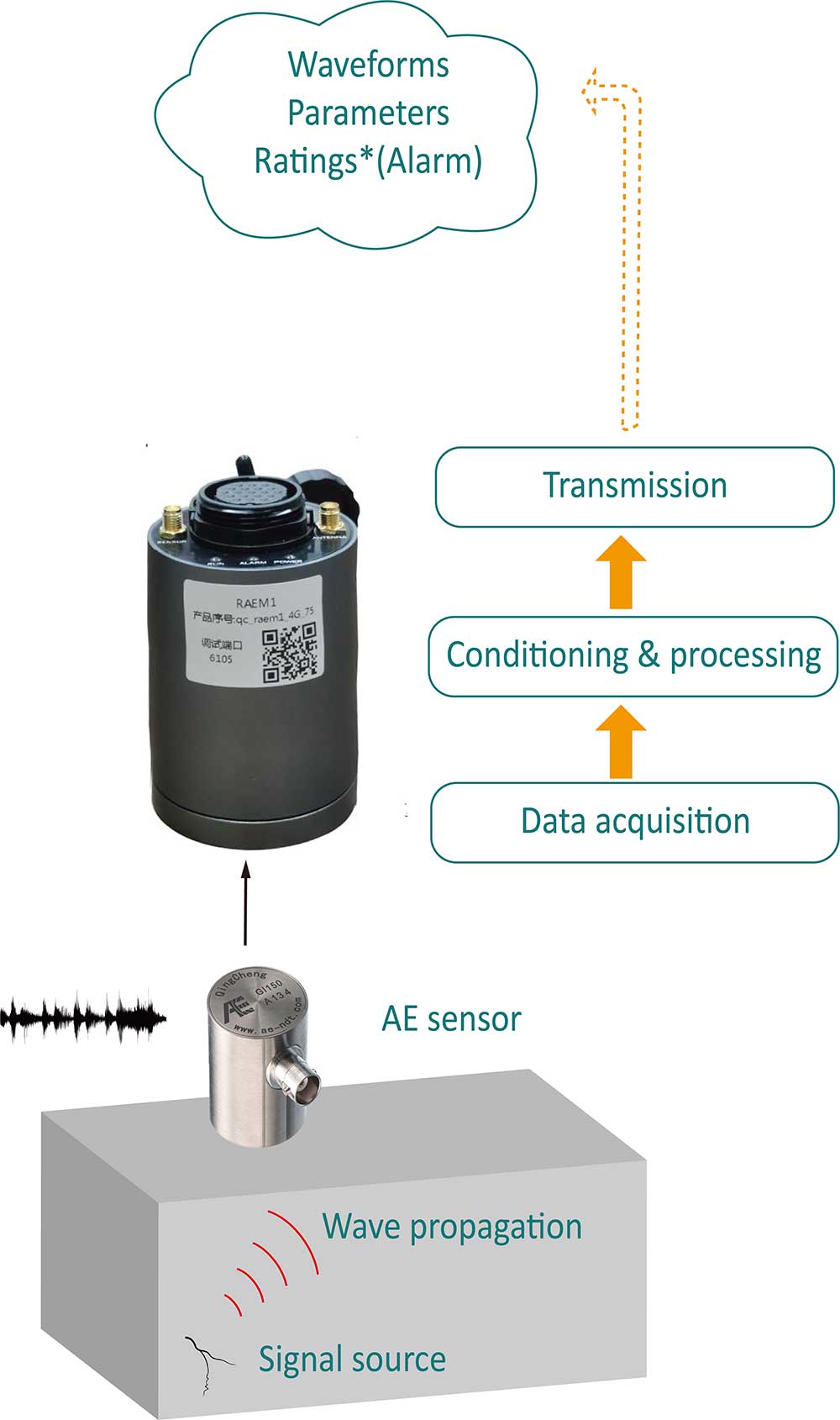 RAEM1 System Structure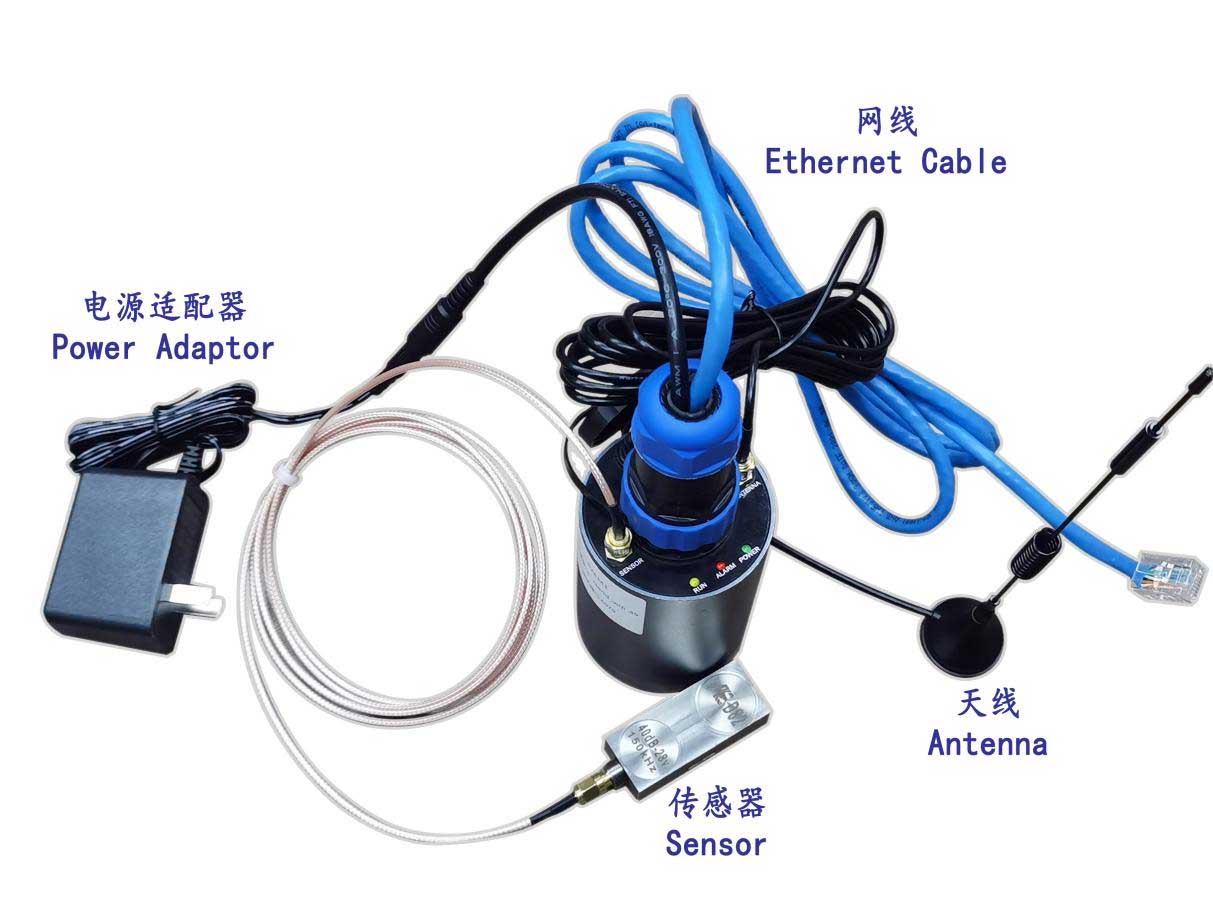 Basic RAEM1 Hardware Connection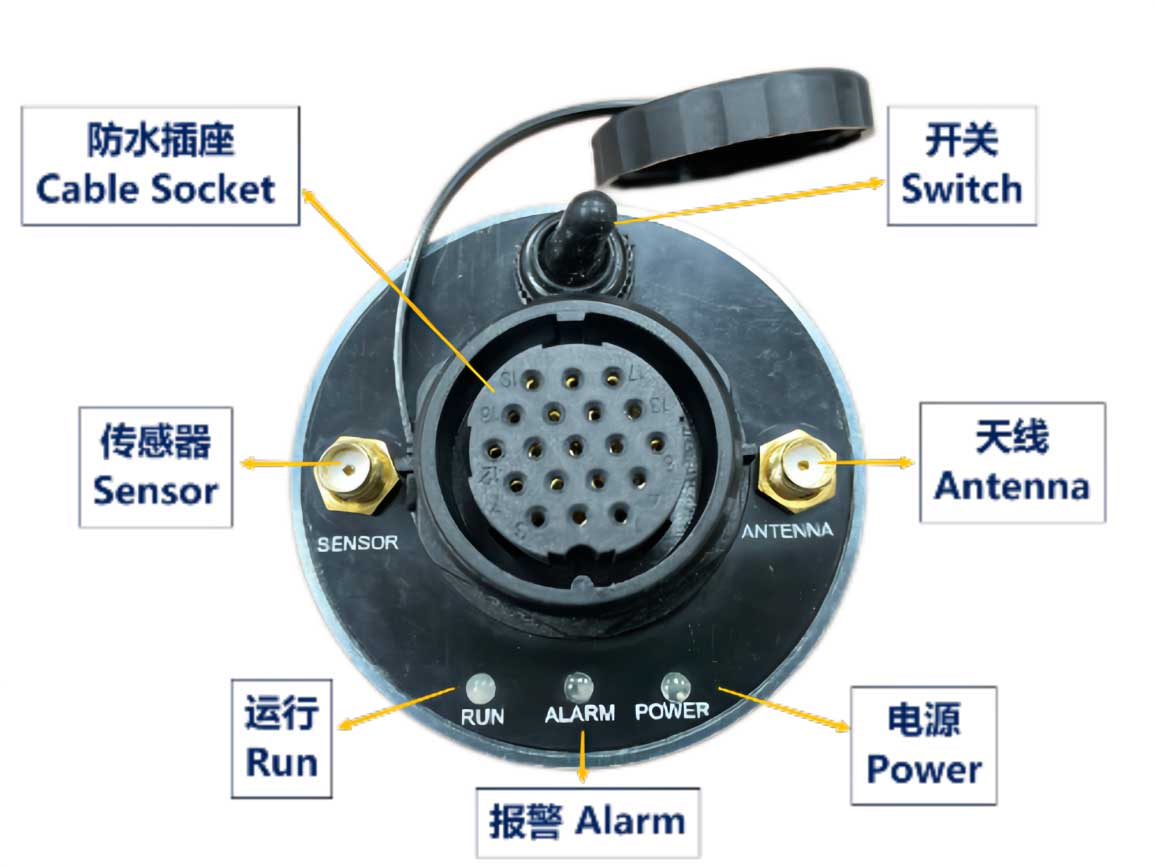 RAEM1 Top Plate Function Introduction
System Order Configuration Table
Components
Options
Notes
Supply Input Power
Power adaptor (by default, 12V/1A) or battery pack (12V/1A)
The power adaptor is the default setup. If a battery pack has to be chosen, customers may need to source it on their own.
Original Matching Sensor

(IMPORTANT)

An integral sensor with built-in preamplifier (by default) or;
a general purpose sensor plus an external preamplifier (PAV)

The original matching sensor determines the output voltage and the analog filter in the RAEM1 hardware, which is not able to modified by software. So it is recommend to only use the original matching sensor type.
Supply Input Power
To drive the preamplifier. It is fixed in hardware and not allowed to modified after manufacture. It is determined by the original matching sensor preamp.
Analog Filter

High-pass: 30kHz, 125kHz
Low-pass: 80kHz, 175kHz

Analog filter is the hardware filter which is not allowed to modified by software after manufacture. Once the original matching sensor is chosen, we will configure the best analog filter.
Sensor Cable Length

1 meter
2 meters
Or 5 meters

Choose a standard cable length between the sensor and the RAEM cylinder.
Communication Methods

Ethernet Cable (compulsory)
WiFi
4G
LoRa
RS485
Bluetooth
NB-IoT
Others

The Ethernet cable is compulsory wire transmission with the computer. Customers can choose one or two more other communication methods for transmission.
Output Data Format

Waveform (original AE waves voltage in time domain)
Parameters (e.g. Amplitude, Energy, RMS, ASL, duration...)
Rating levels (classify parameters in different levels and certain levels to trigger alarms)

RAEM1 can output all three types of data or only one or two types to save the data streams.
Data Terminal

Computer/ laptop to use the SWAE desktop software
Smartphone using the Bluetooth APP
Qingcheng IoT Cloud Platform
Alibaba Cloud/ AWS/ Azure or other commercial Cloud platform
Private servers or self-develop software

Choose the desired data display and analysis terminals. We provide well-function software, APP, and QC IoT Cloud platform for real-time data display and analysis. We also provide the TCP/MQTT protocol for customers to self processing the data streams.
*Special Requirements (optional)
Such as protection degree (IP65), or temperature, or other unusual environmental or operational conditions
Please let us know the more details as possible to help you to consider and solve the difficulties.
Based on the application and the actual site environment and requirements, the appropriate matching sensor and the communication methods are selected from all available options when ordering. The output power, analog filter and communication modules are hardware embedded so they are not allowed to modified by software after manufacturing. It is recommended to only connect the original paired sensor to the RAEM1.
Channel: Single channel
Sampling accuracy: 16-bit
Trigger method: Threshold/time trigger
System noise: <30dB
Sampling rate: Max.2M/s per channel
Dynamic range: 70dB
Protect grade: IP65
Input bandwidth: 10KHz-800KHz
Analog filter: High-pass filters: 30KHz, 125KHz Low-pass filter: 80KHz, 175KHz
Digital filter: Any value within 0KHz~1000KHz can be set freely, high pass, low pass, band pass
Sensor: Integral sensors with built-in preamplifier (Choose one of three preamp options when ordering: 40dB28V, 34dB12V or 26dB5V)
Data output: Waveform, AE parameters and parameter rating
AE parameter: Arrival time, amplitude, counts, energy, rise time, duration,RMS,ASL
SD card: 64G(can be expanded up to 512G)
Comm method: 4G、network port、Wi-Fi、RS485(customized with NB-IOT, Lora etc.)
Working temp.: -20℃~60℃(Wi-Fi version: 0℃~60℃)
Power supply: Battery or external power supply (DC 12V)
Weight: 220g (without built-in battery/sensor)
Size (D x H): 62mm x 100mm (without built-in battery/sensor)
Installation: Magnetic base, can be adsorbed on the surface of the object
RAEM1 Desktop Type Connection
RAEM1 can be used as the desktop type AE system using Ethernet cable or local WiFi network directly to the computer or laptop.

One RAEM1 Desktop Type Connection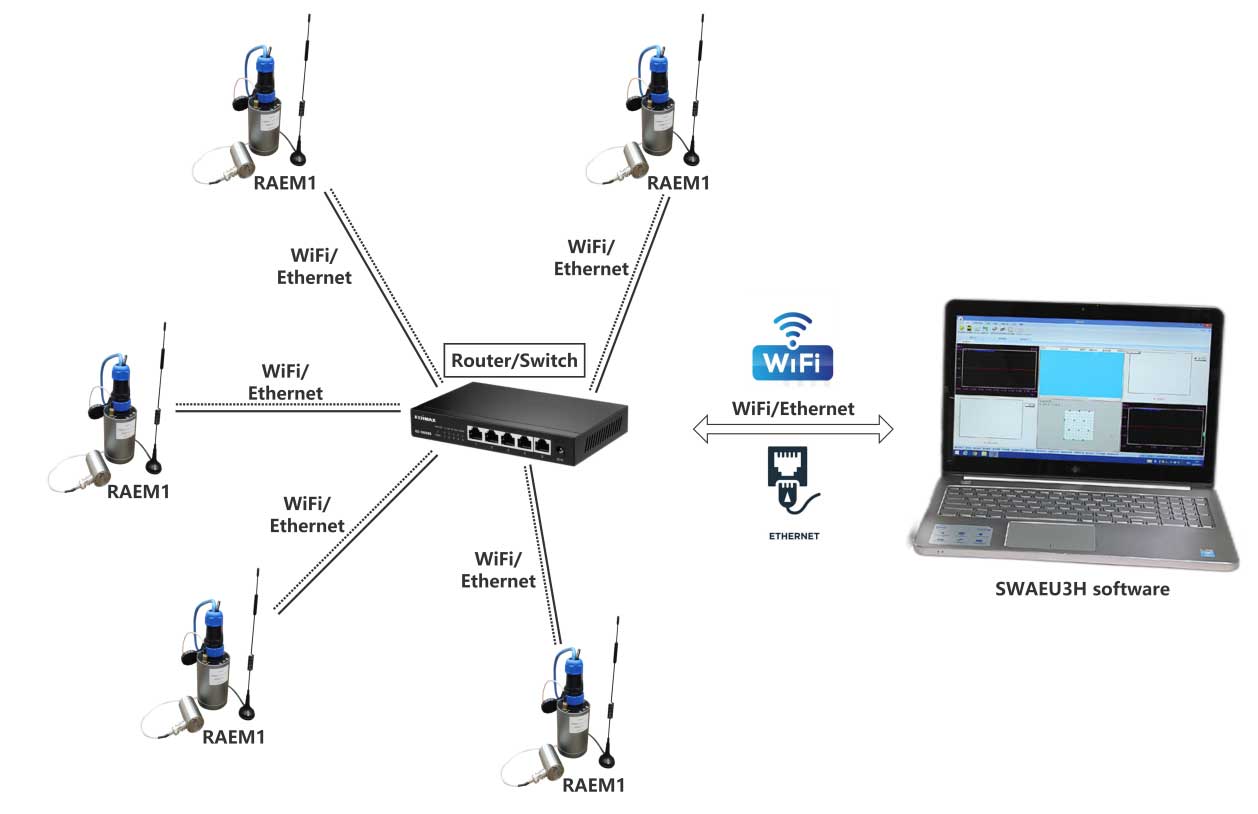 Multiple RAEM1 Networking Desktop Type Connection
RAEM1 Online Monitoring Connection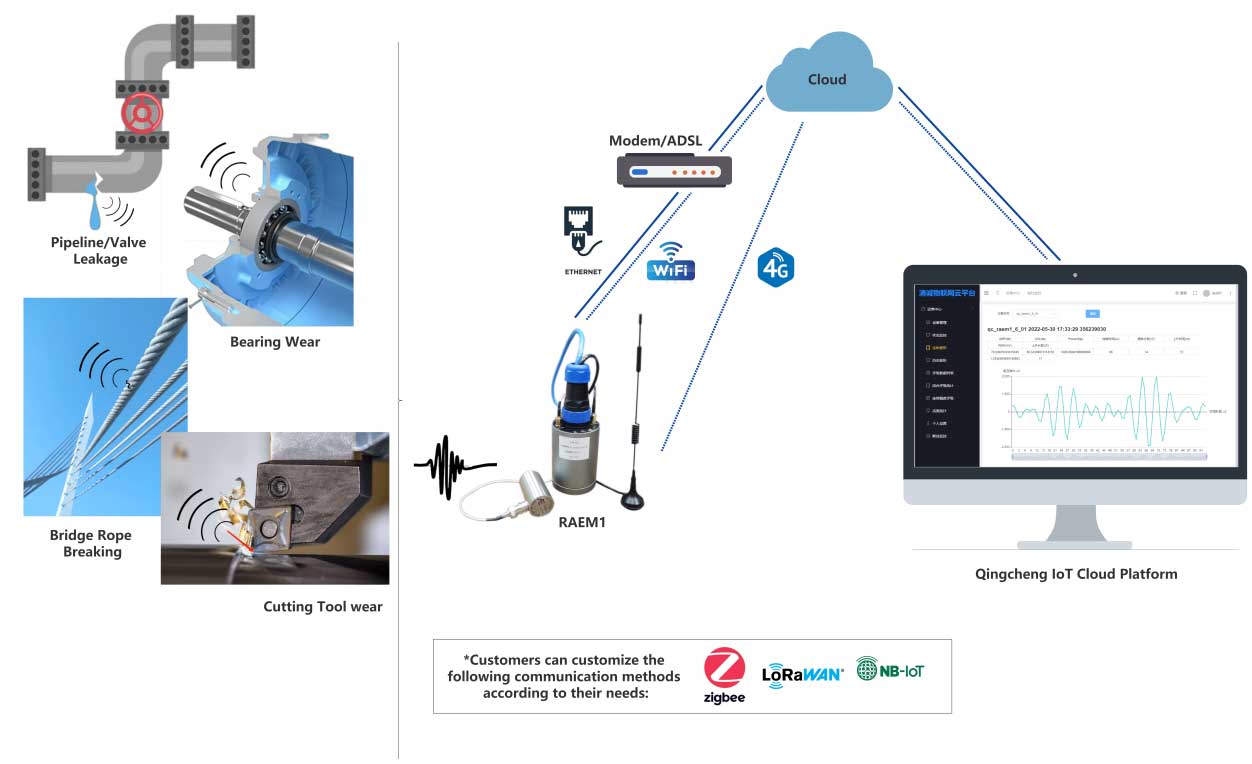 Data Display and Analysis System
The RAEM1 output data can be displayed on:
Or other post data analysis using our transmission protocols
Bridge cable wire break monitoring
Storage tank crack monitoring
Structural integrity monitoring
Wind turbine blades integrity monitoring
Bucket truck boom integrity monitoring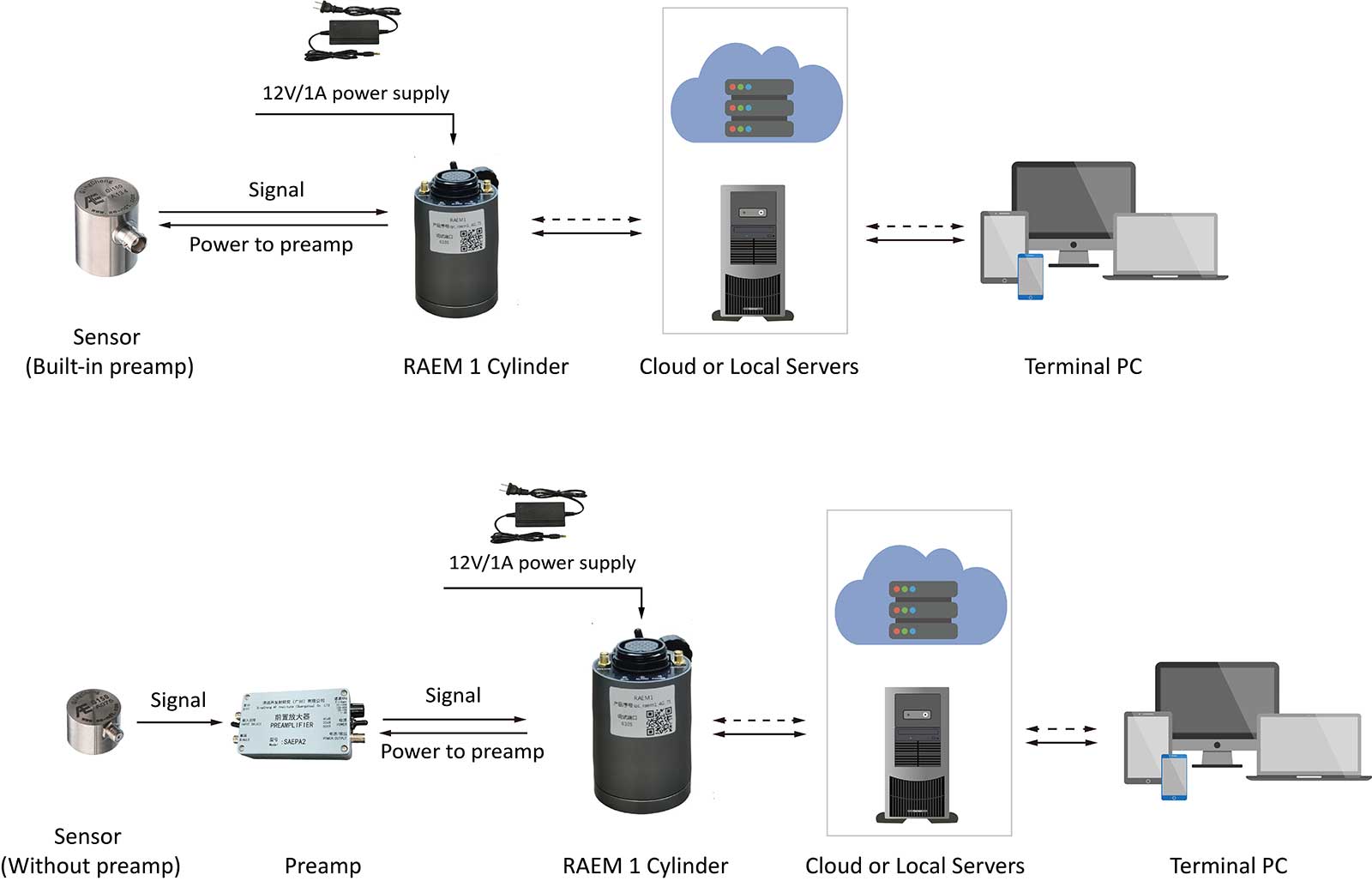 Further Information

User's Manual.pdf


Quick Start Guide (4G version).pdf


Quick Start Guide (WIFI version).pdf
RAEM1 Operation Guidance Video
Related Applications
Compatible with a variety of communication methods, long transmission distance, fast speed. Compact design and easy installation.